Wedding Gallery
Welcome to our gallery of wedding flowers.
We have had the privilege of designing flowers for many weddings and our florals have graced the rooms of some of the most beautiful venues in Berkshire and Surrey, including Botleys Mansion, Coworth Park, Dorney Court, Great Fosters, Northbrook Park, Rivervale Barn and Wentworth Club. Each and every one was an honour to work on and we hope you find as much joy in viewing them as we did in creating them - and maybe some inspiration too.
If you prefer to search by venue, simply click on the name above.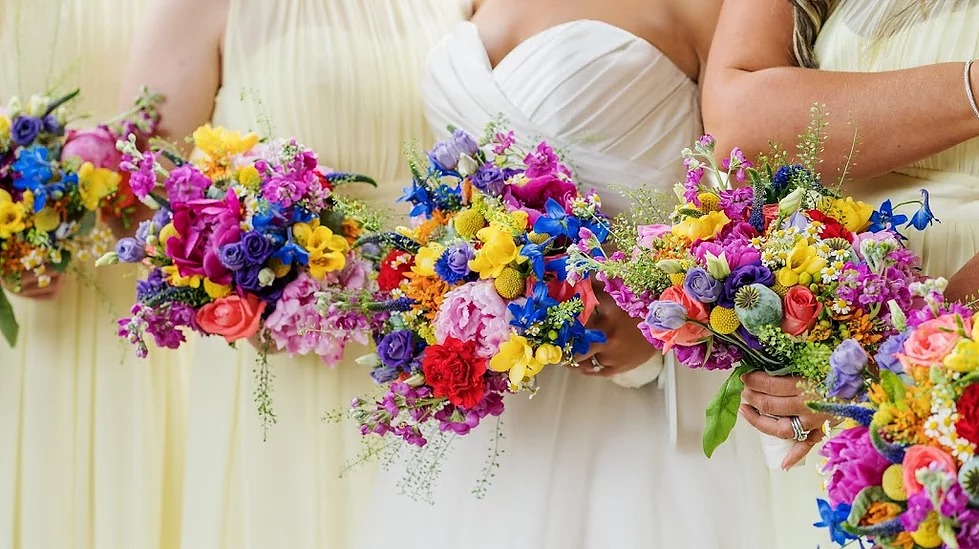 COLOUR AT AUDLEYS WOOD
A June wedding with a truly joyful brief: relaxed and whimsical with a rainbow of colour.
Sapphire cornflowers, magenta stocks, fiery garden roses, orange ascelpsias and fuchsia peonies created a bright colour base, with yellow craspedia and green bell foliage adding texture. Arranged loosely using informal glassware and coupled with mismatched buttonholes and delicate flower crowns, the end result was as vibrant and cheerful as a summer garden.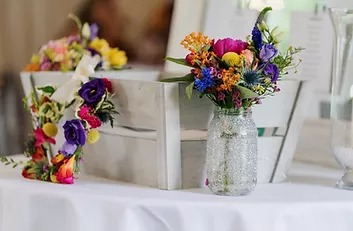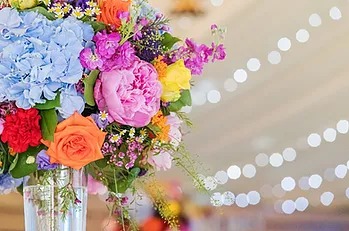 Photos © Lemontree Photography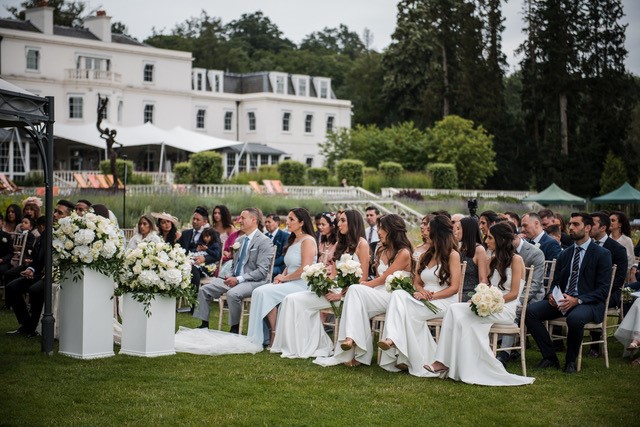 SUMMER ELEGANCE AT COWORTH PARK
Clean and elegant florals in subtle white and green allowed the beautiful Coworth Park lawn to really shine. A luxurious combination of roses, hydrangea and orchids set the theme for the day and long-stemmed rose bouquets gave a chic and contemporary twist on an old classic.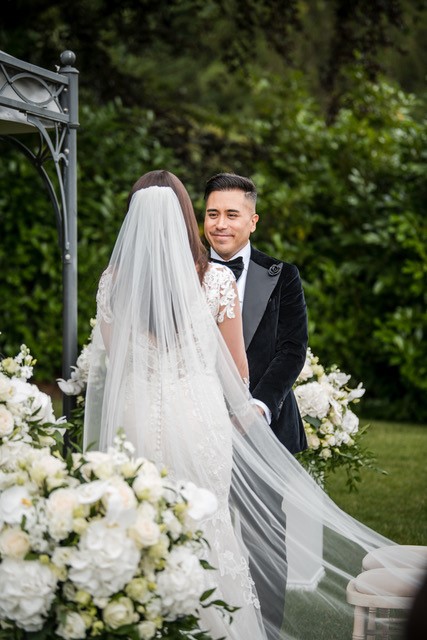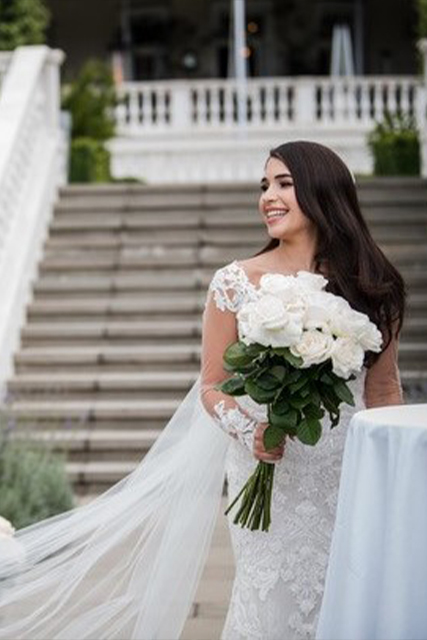 Photos © Zaki Charles Photography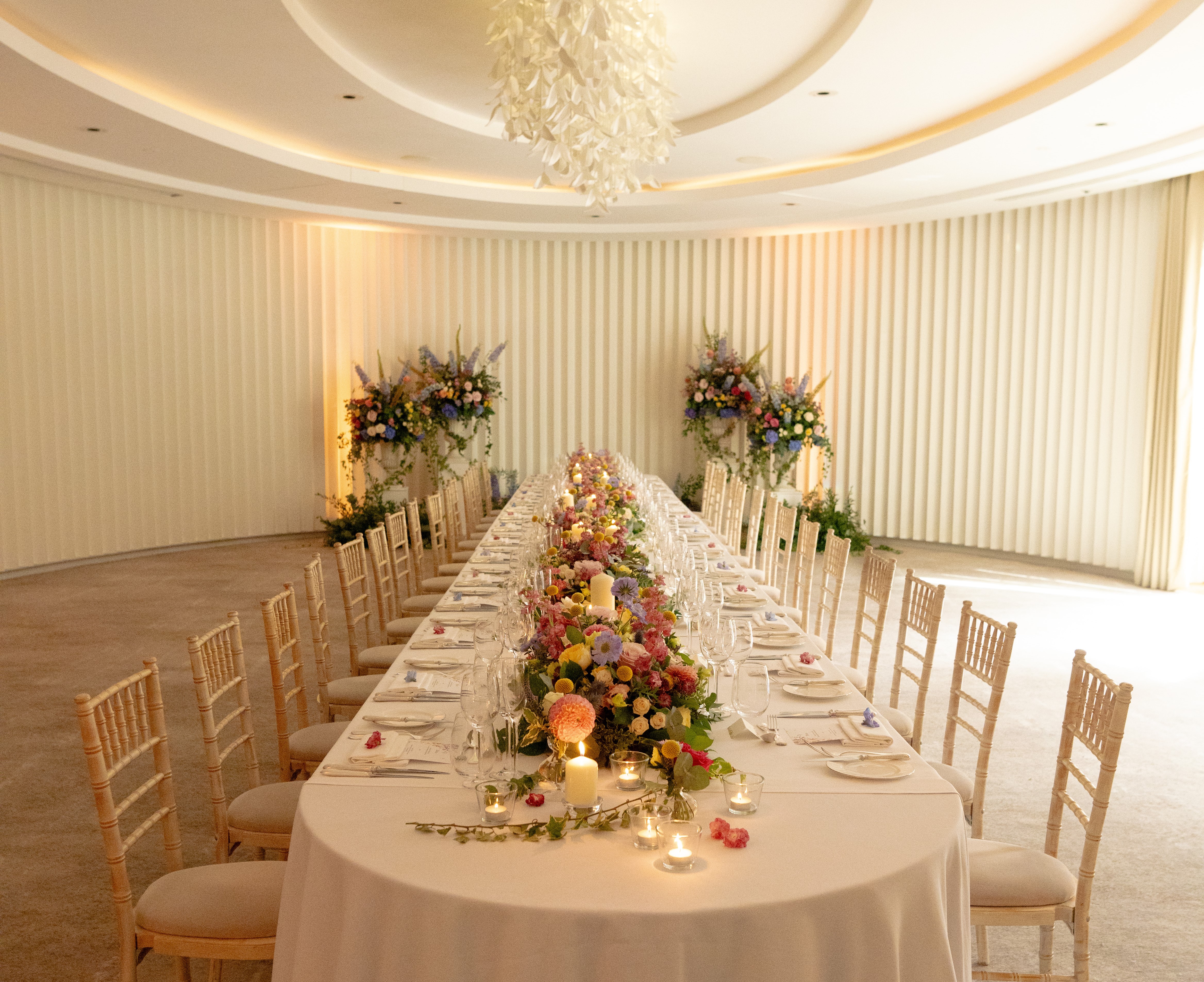 RICH PASTELS AT COWORTH PARK
A gentle splash of colour was just enough to bring summer inside for this intimate wedding.
Soft garden roses, bobbing scabiosa and pom-pom dahlias in deeper pastel tones were punctuated with trailing ivy and occasional pops of yellow to create a warm, Italianate feel in the room. Enhanced with creamy stoneware and layers of candlelight the overall effect was relaxed, welcoming and elegant.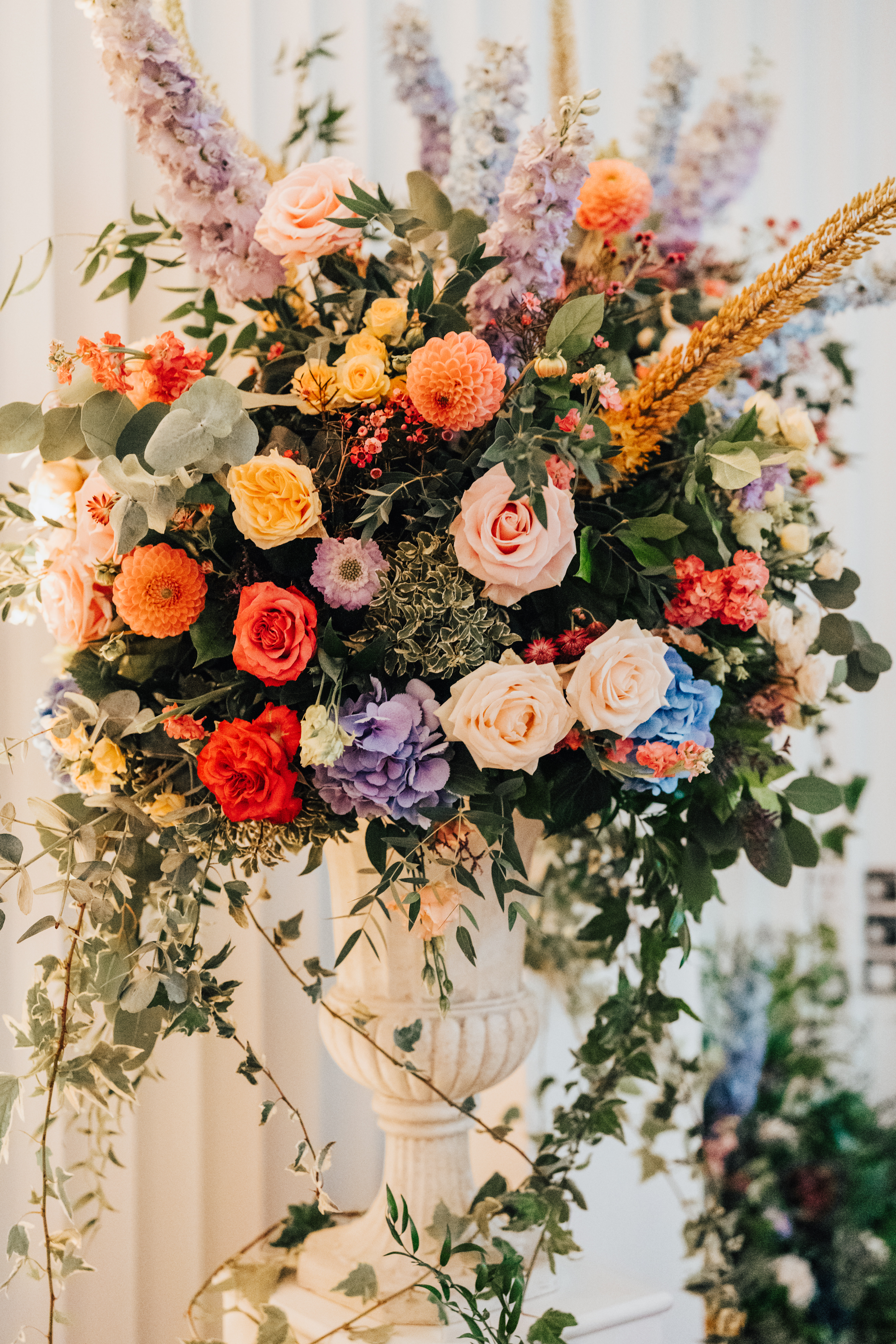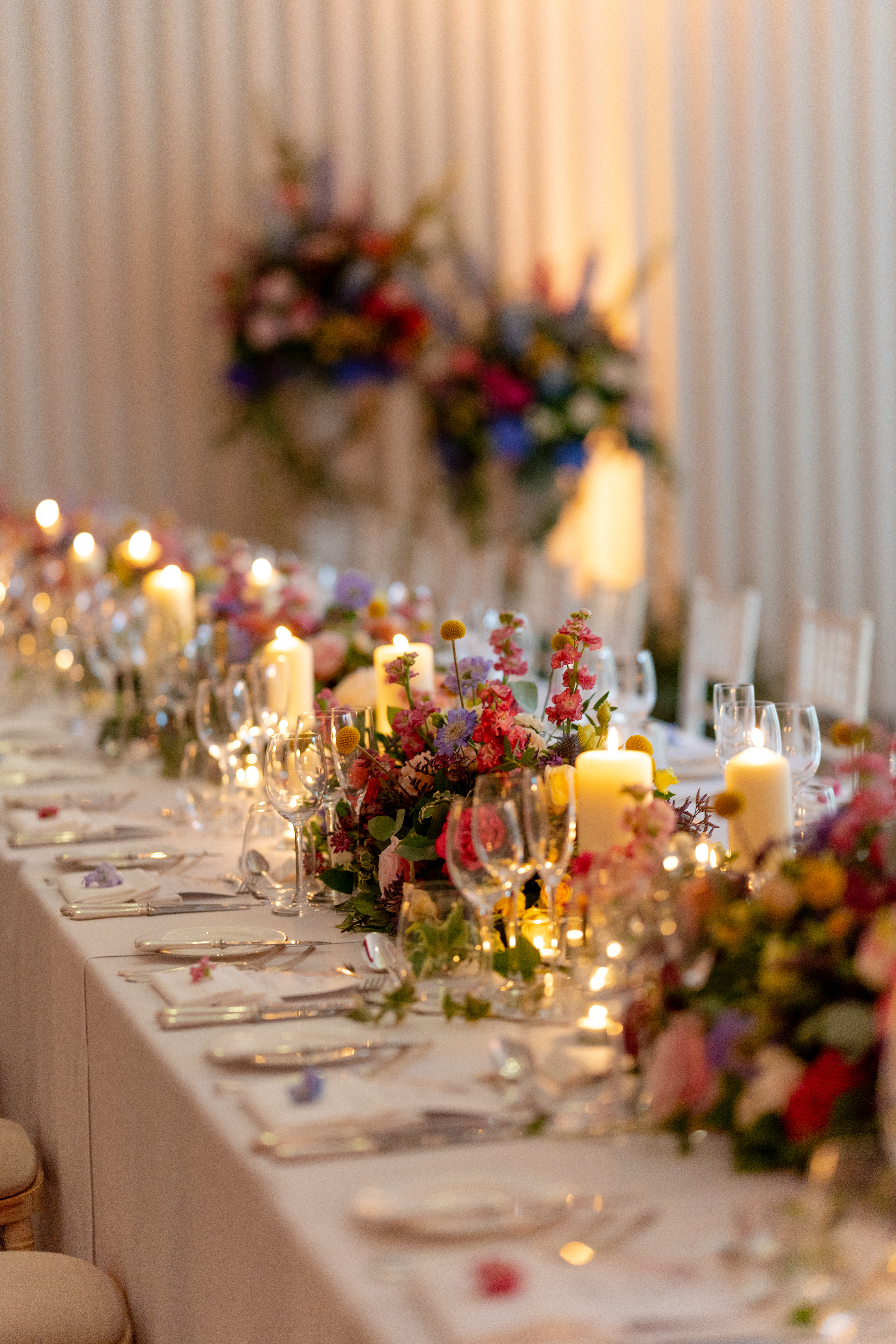 Photos © Rebecca Carpenter Photography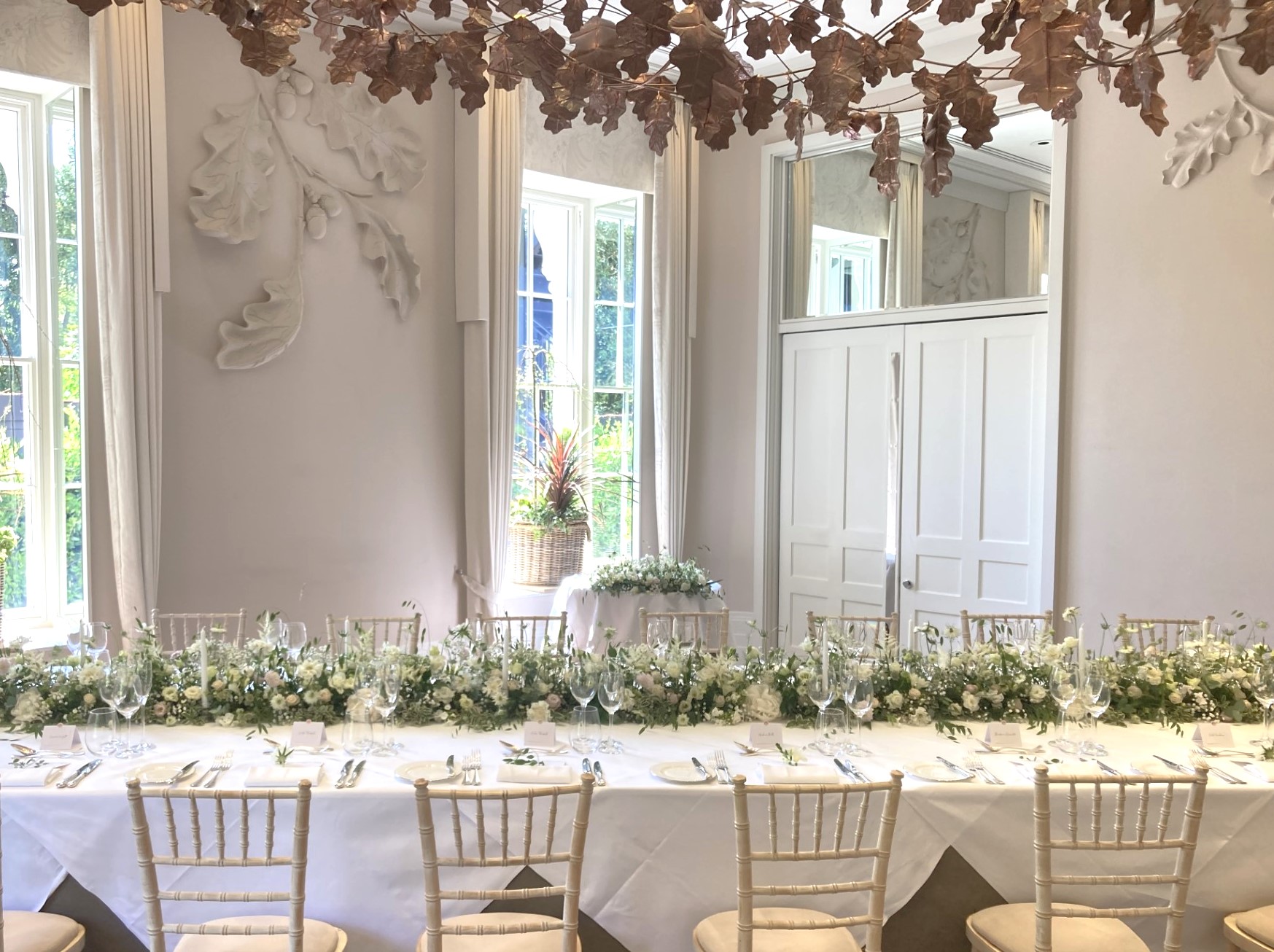 RECREATING MEADOWS AT COWORTH PARK
When you have the stunning Coworth Park meadow as a backdrop for your ceremony, you keep the florals simple.
A dressing of seasonal greenery to soften the gazebo; a delicate bridal bouquet of scabiosa, nigella, sweet peas and grasses; and a table adorned with its own version of a summer meadow. Bringing the outside in.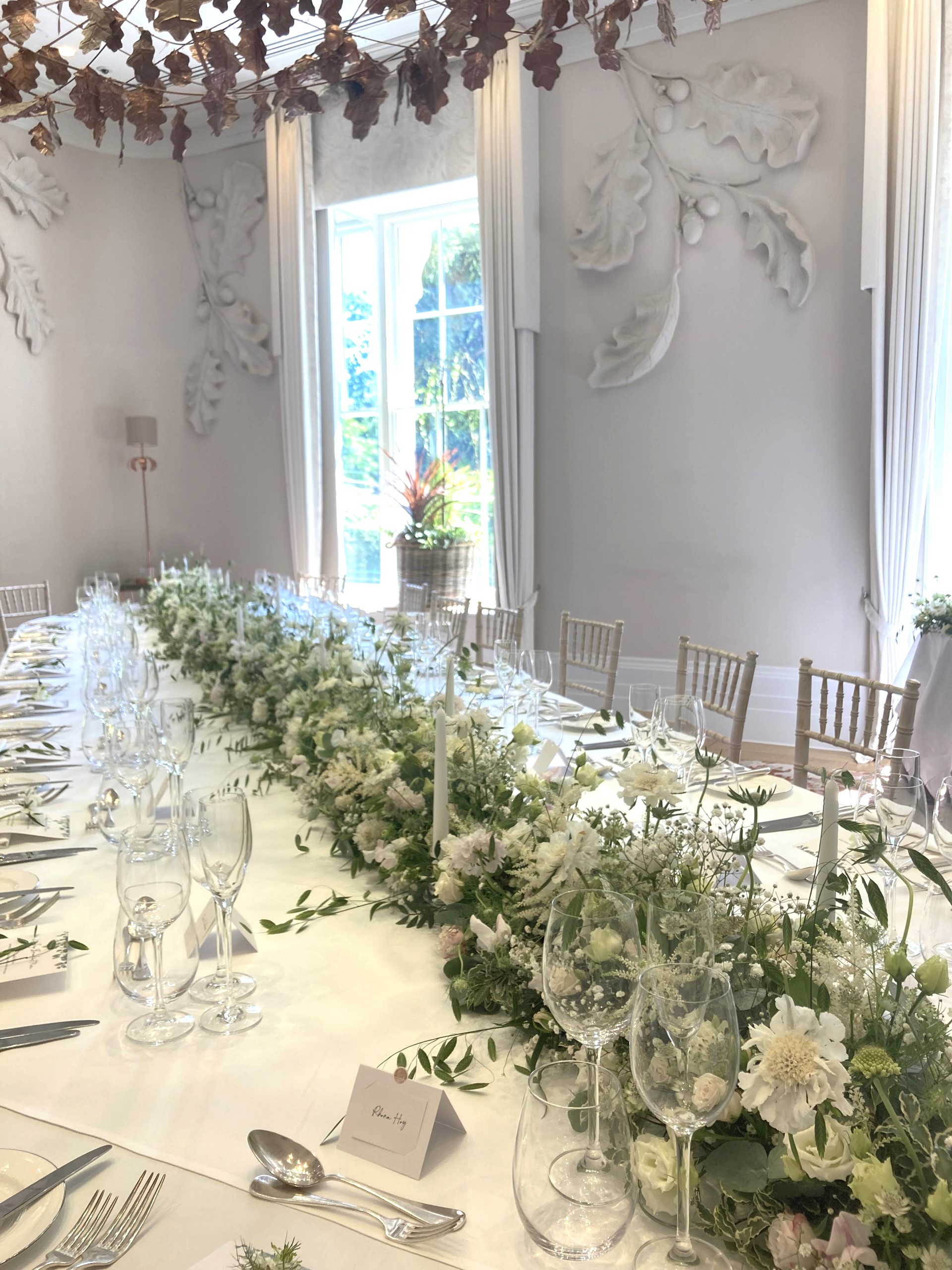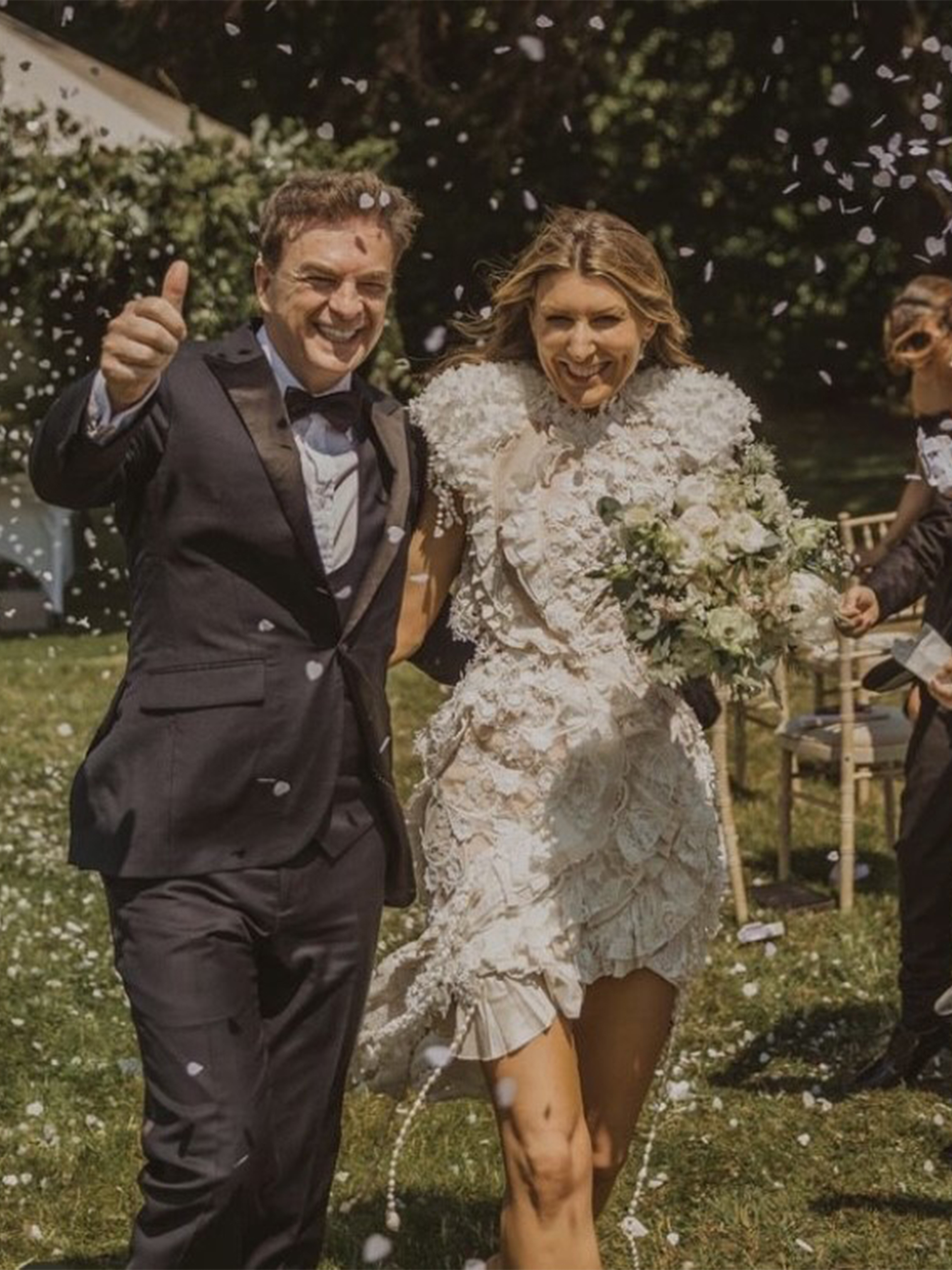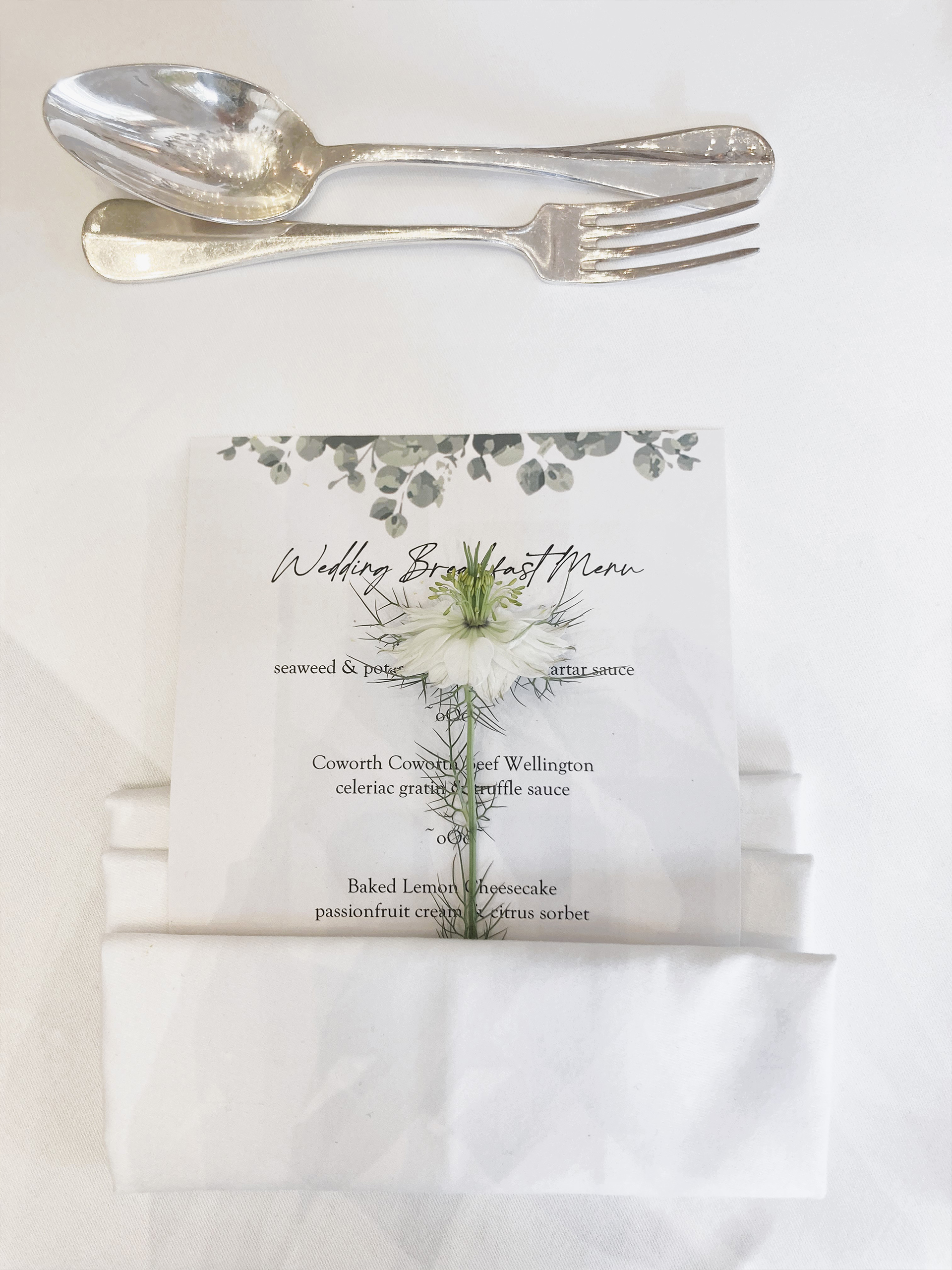 Photos © The Wardette Studio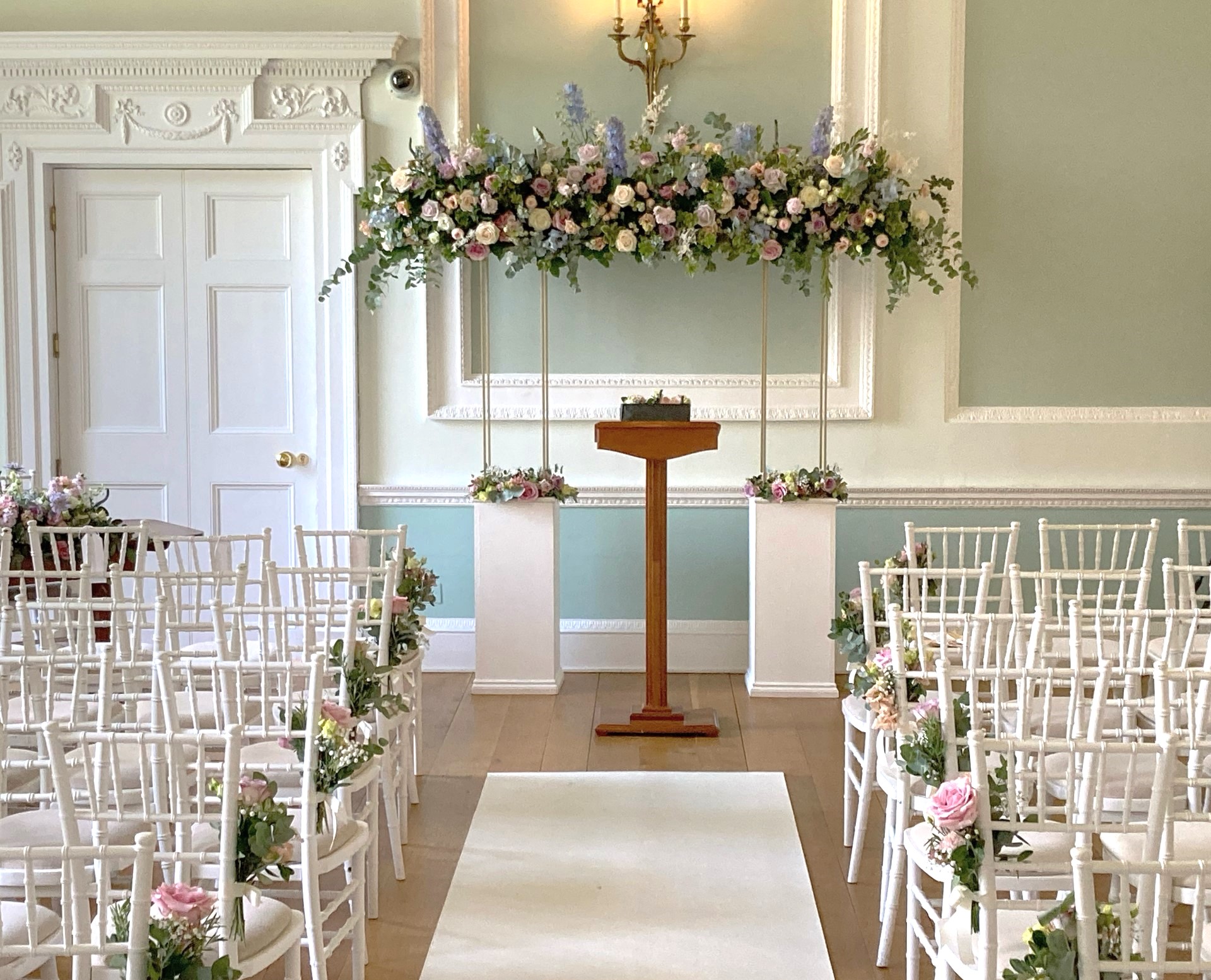 TIMELESS AND ROMANTIC AT BOTLEYS MASNION
A soft canopy of pastel blooms was the perfect complement to the gentle tones and proportions of The Green Room – and, of course, a timeless and romantic backdrop for our couple's vows. Roses in shades of lilac, nude, ivory and softest pink were supported by fragrant stocks and cottage garden delphiniums, scabiosa and veronica. And a carefully considered design meant that the structure could easily be relocated to The Atrium to frame the top table. Pretty and practical.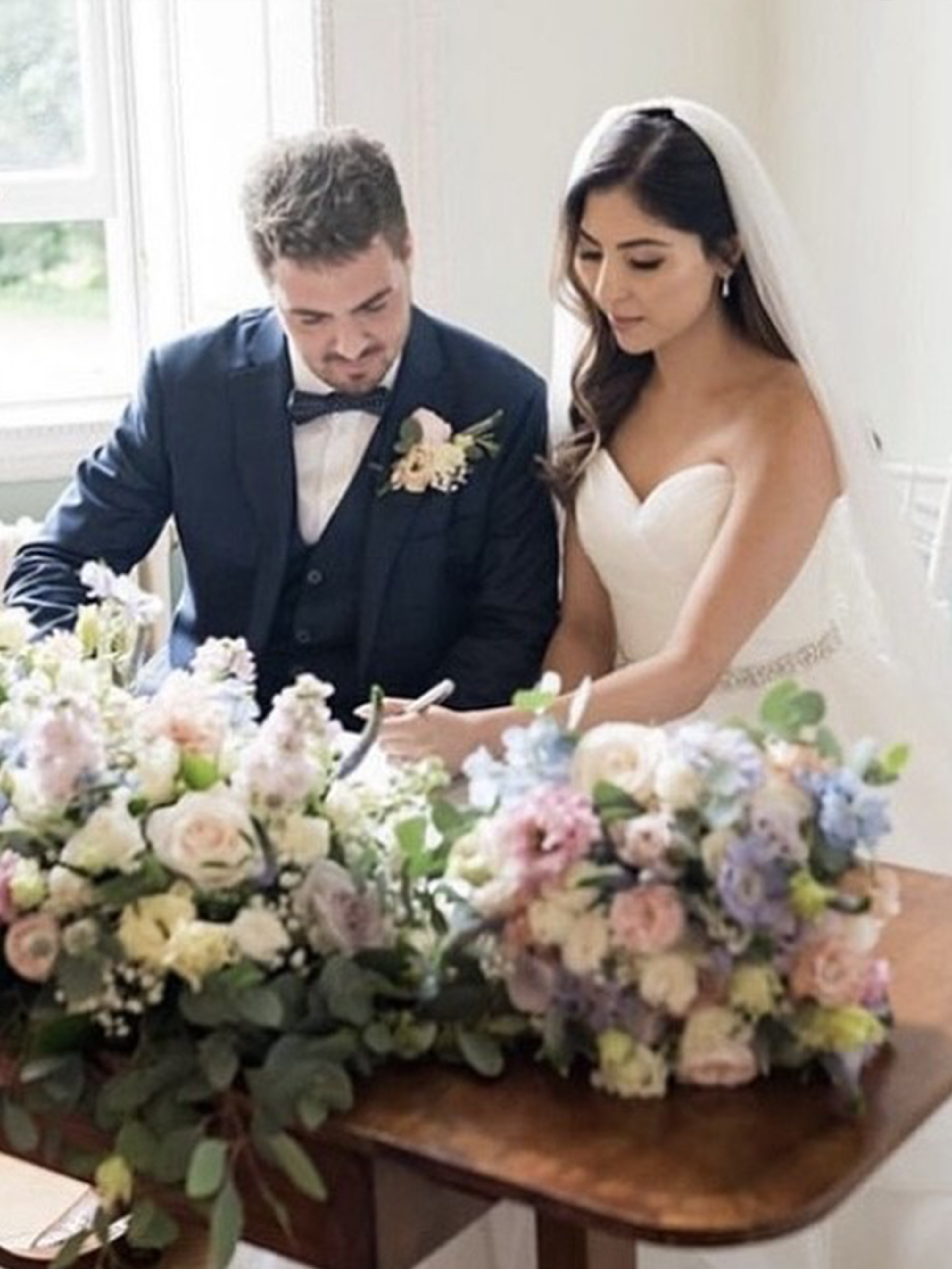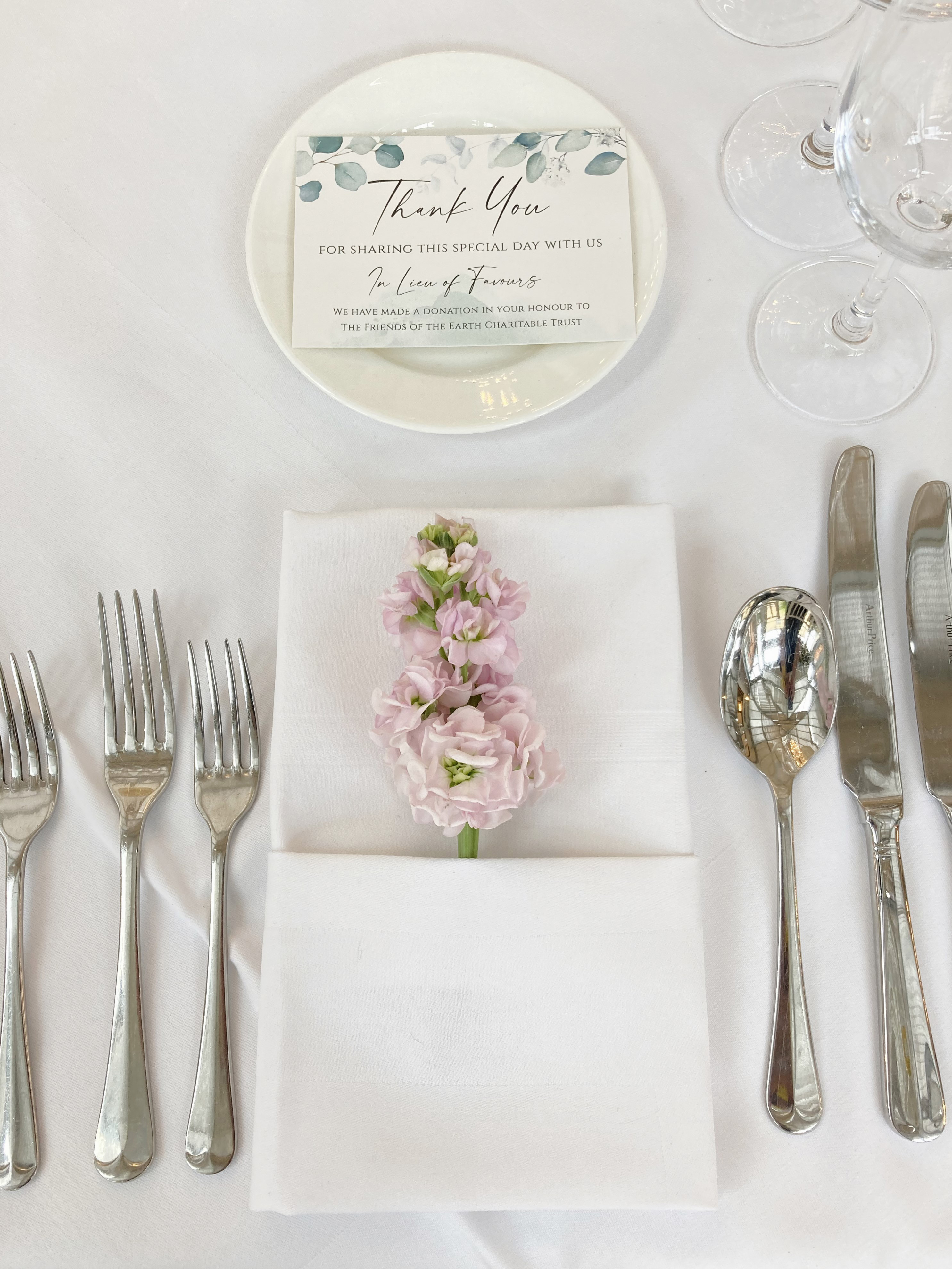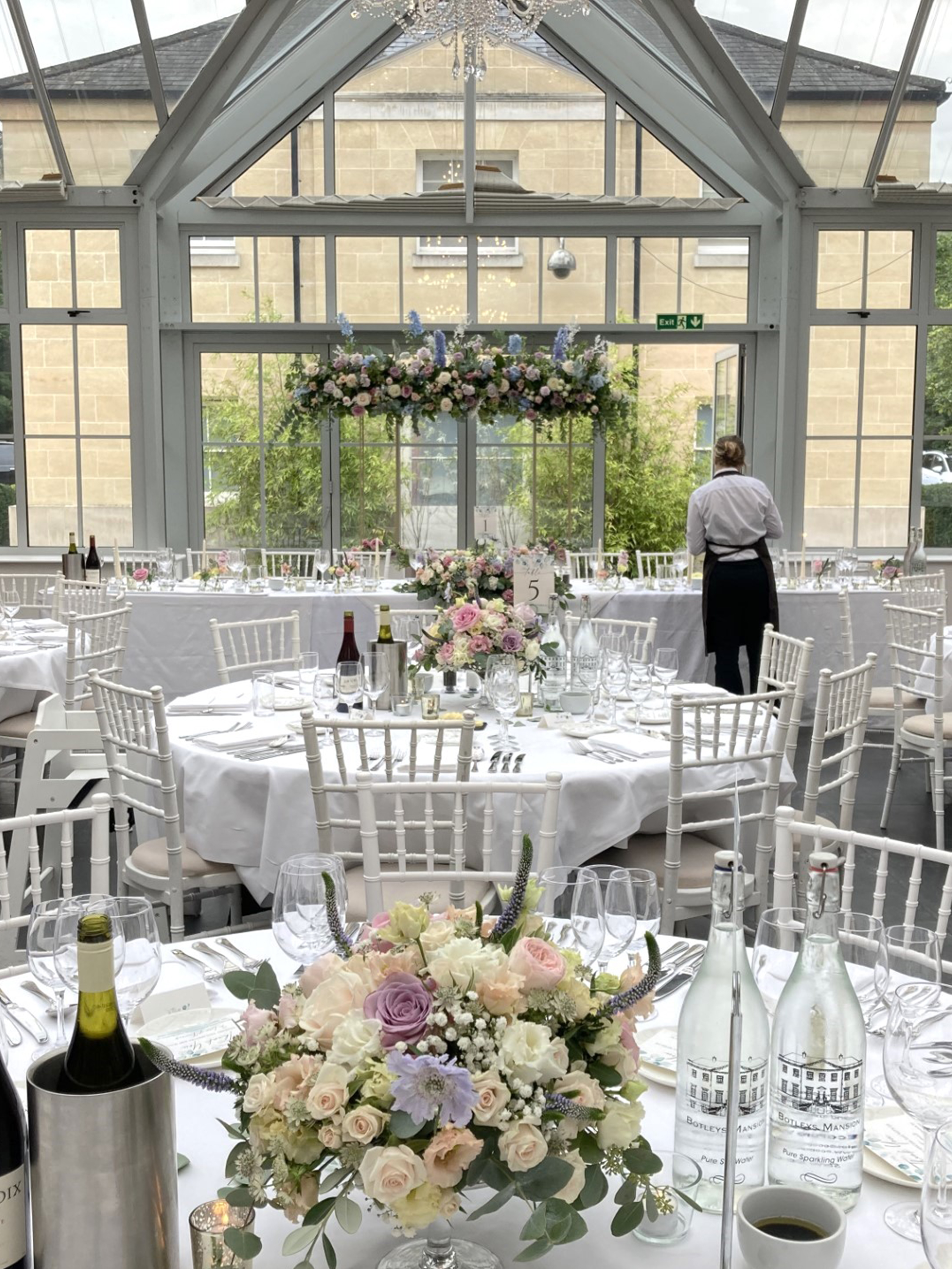 Photos © Faye Cornhill Photography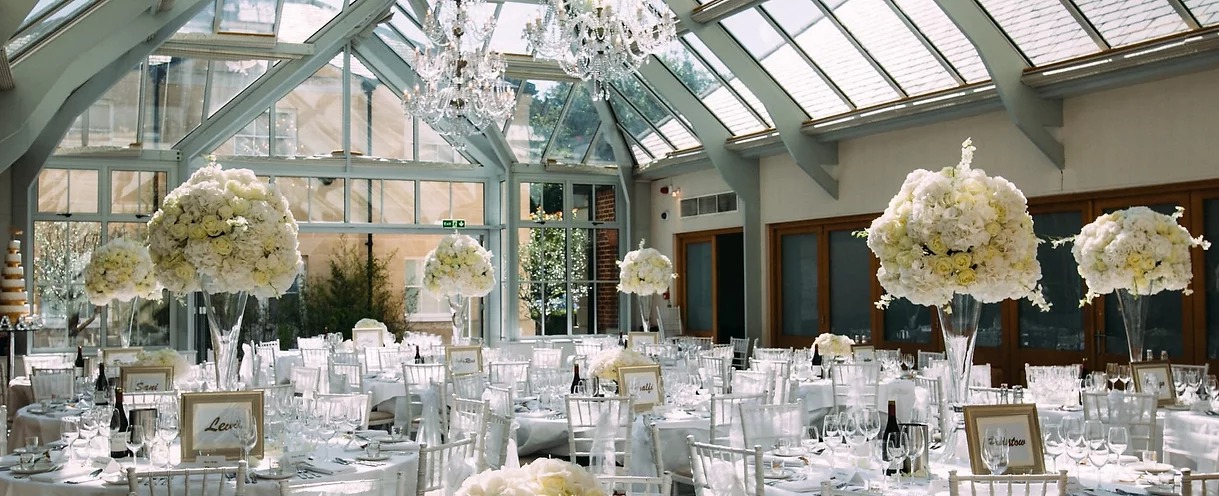 ELEGANT IVORY AT BOTLEYS MANSION
When your venue is as airy as this lovely conservatory, it makes sense to emphasise it.
Heady clouds of white orchid, creamy Avalanche roses and ivory hydrangea combined with elegant glassware to fill this wedding with light and to make the most of Botleys' bright interior.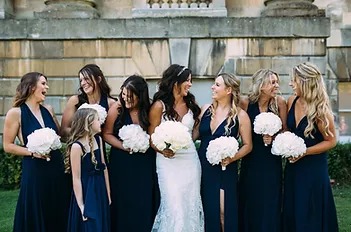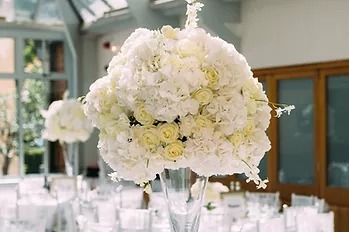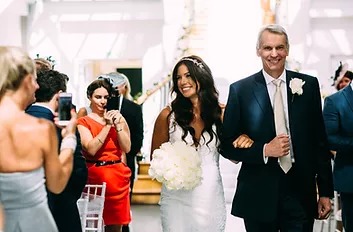 Photos © Helen Abraham Photography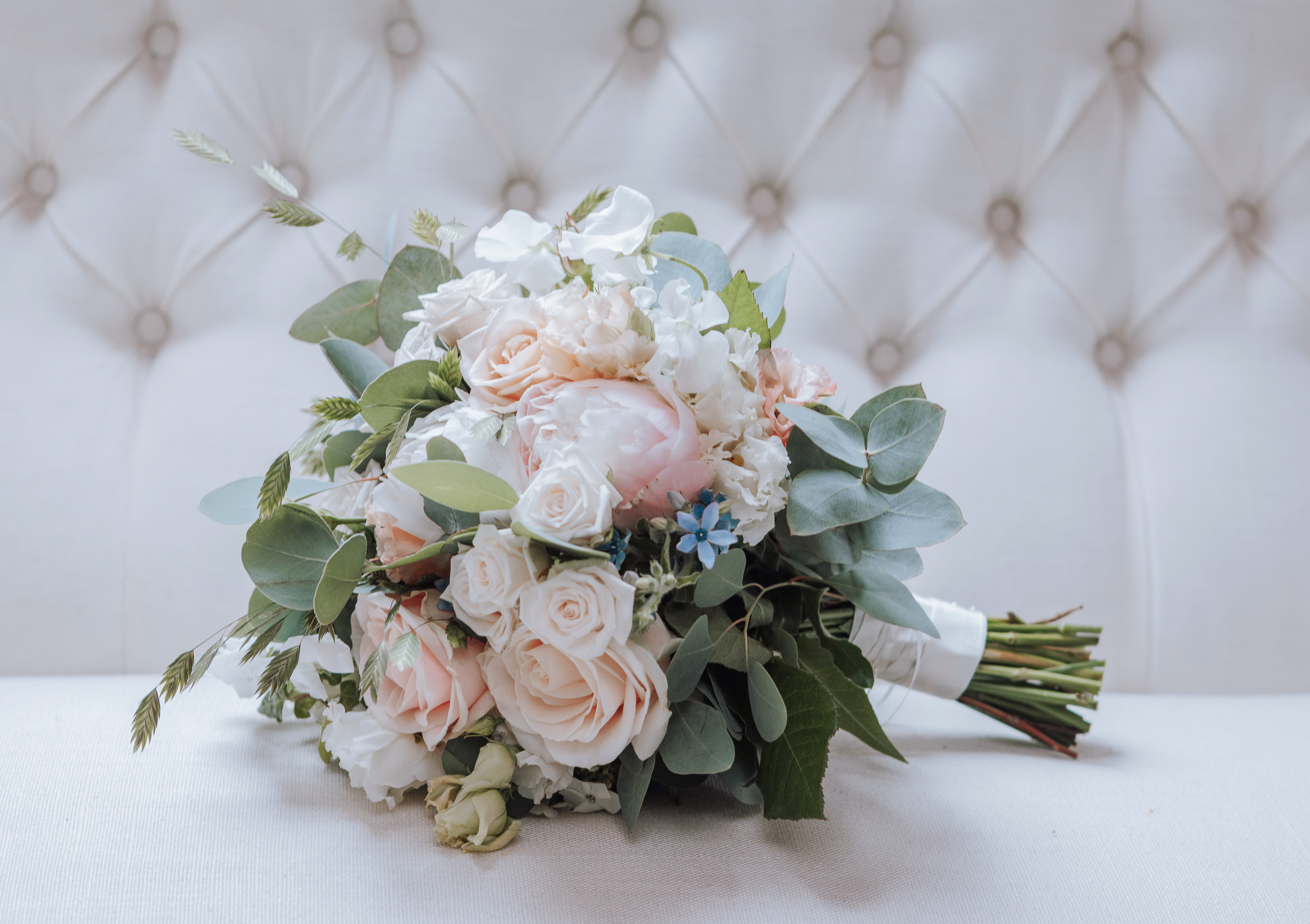 COUNTRY GARDEN AT STANLAKE PARK
Natural and romantic was the brief for this lovely wedding. A canopy of gently draping foliage and country-garden blooms provided the backdrop to both the ceremony and the wedding breakfast, with whimsical floral touches visible everywhere – from pretty swags on the backs of chairs to bud vases scattered across tables and windowsills. The soft nude palette was a perfect complement to Stanlake's exposed brickwork and wooden beams, creating a look that was all about subtle, relaxed elegance.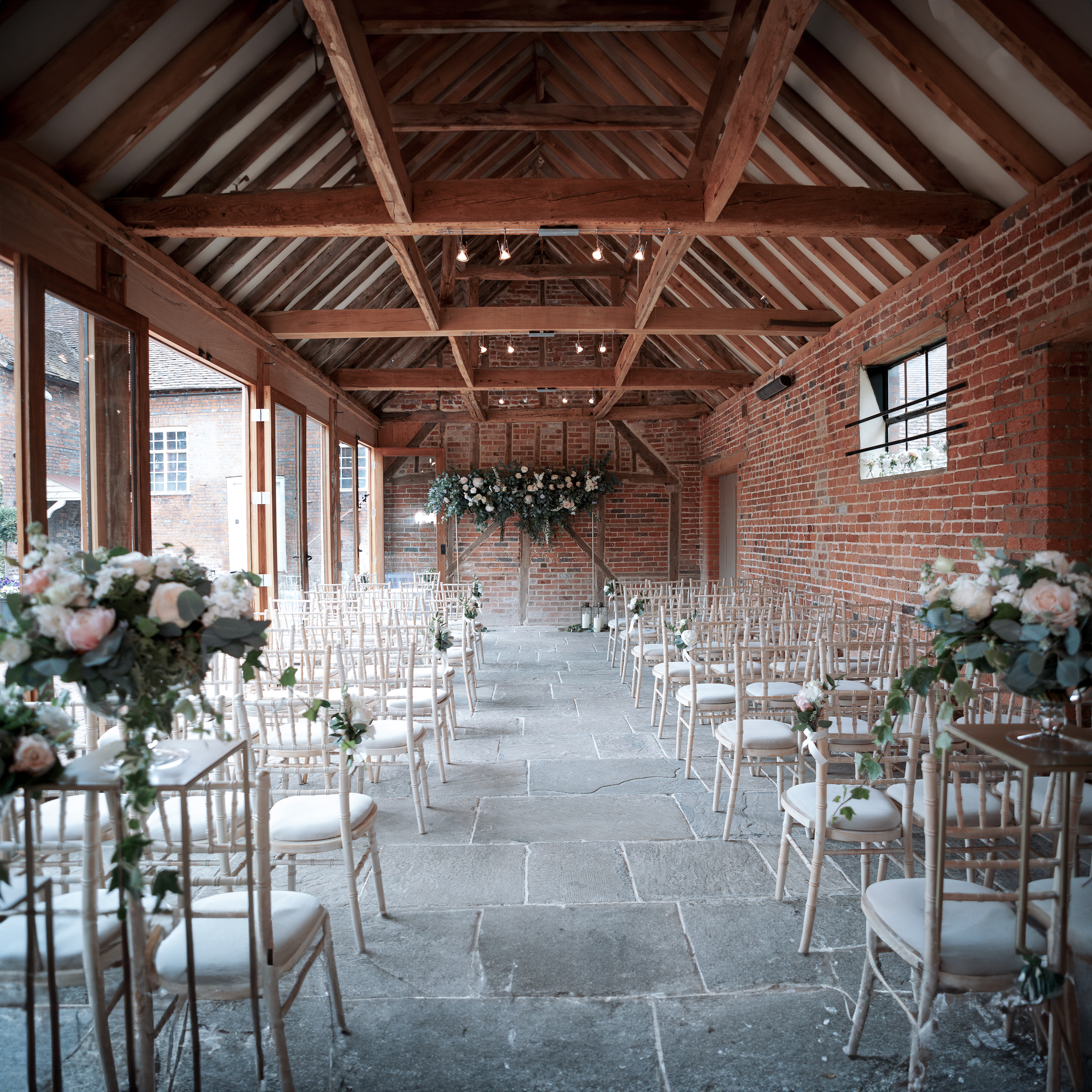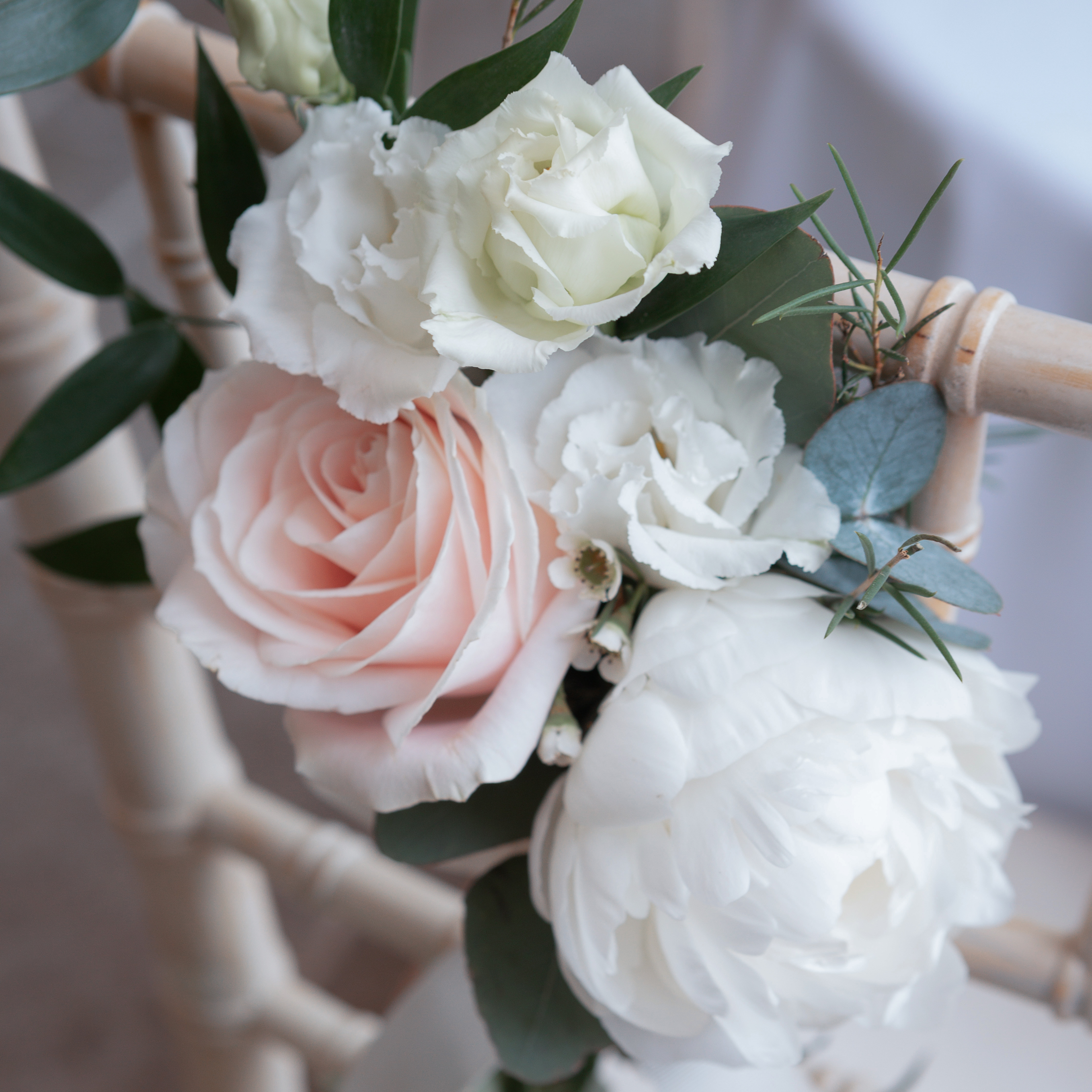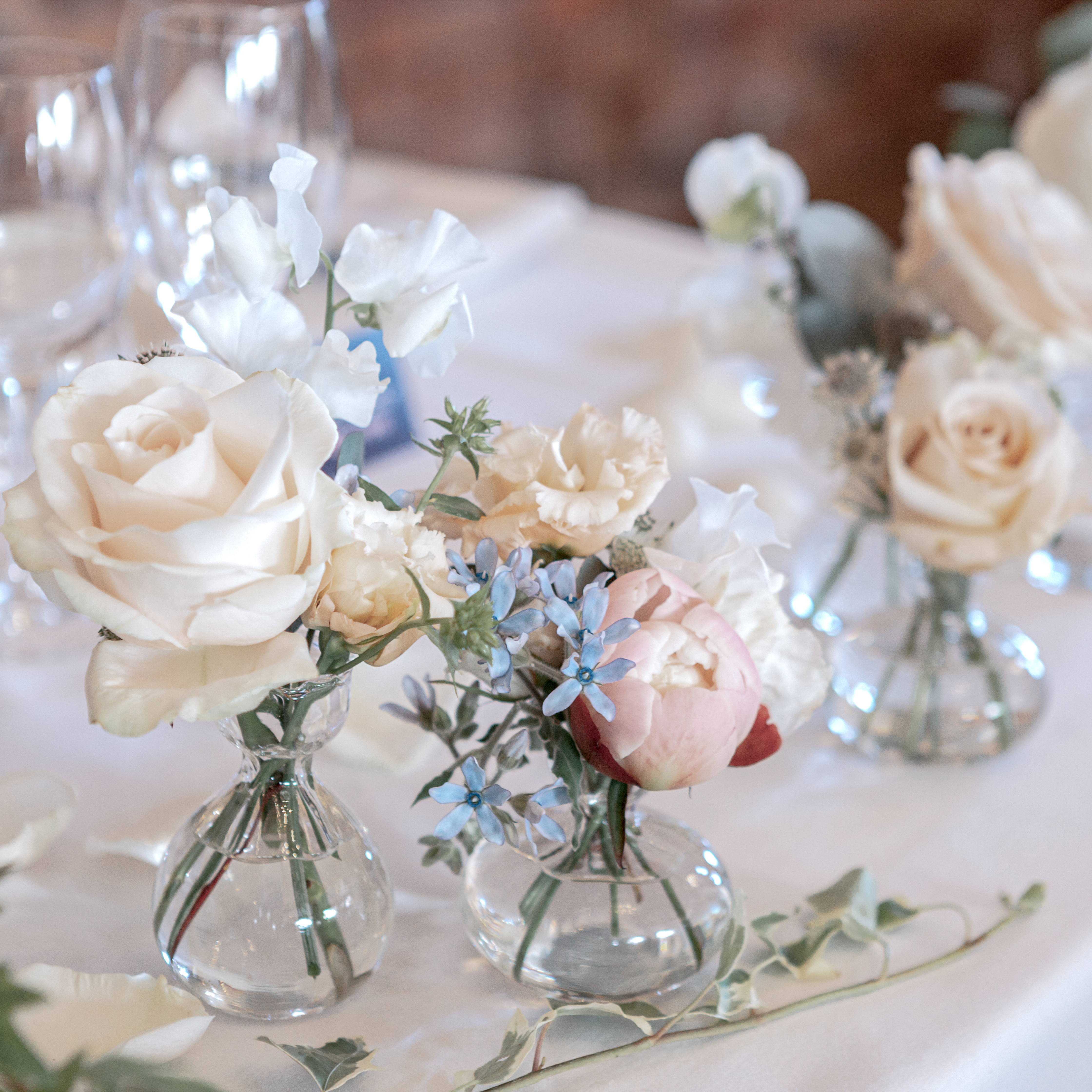 Photos © Wedding Stories UK Photography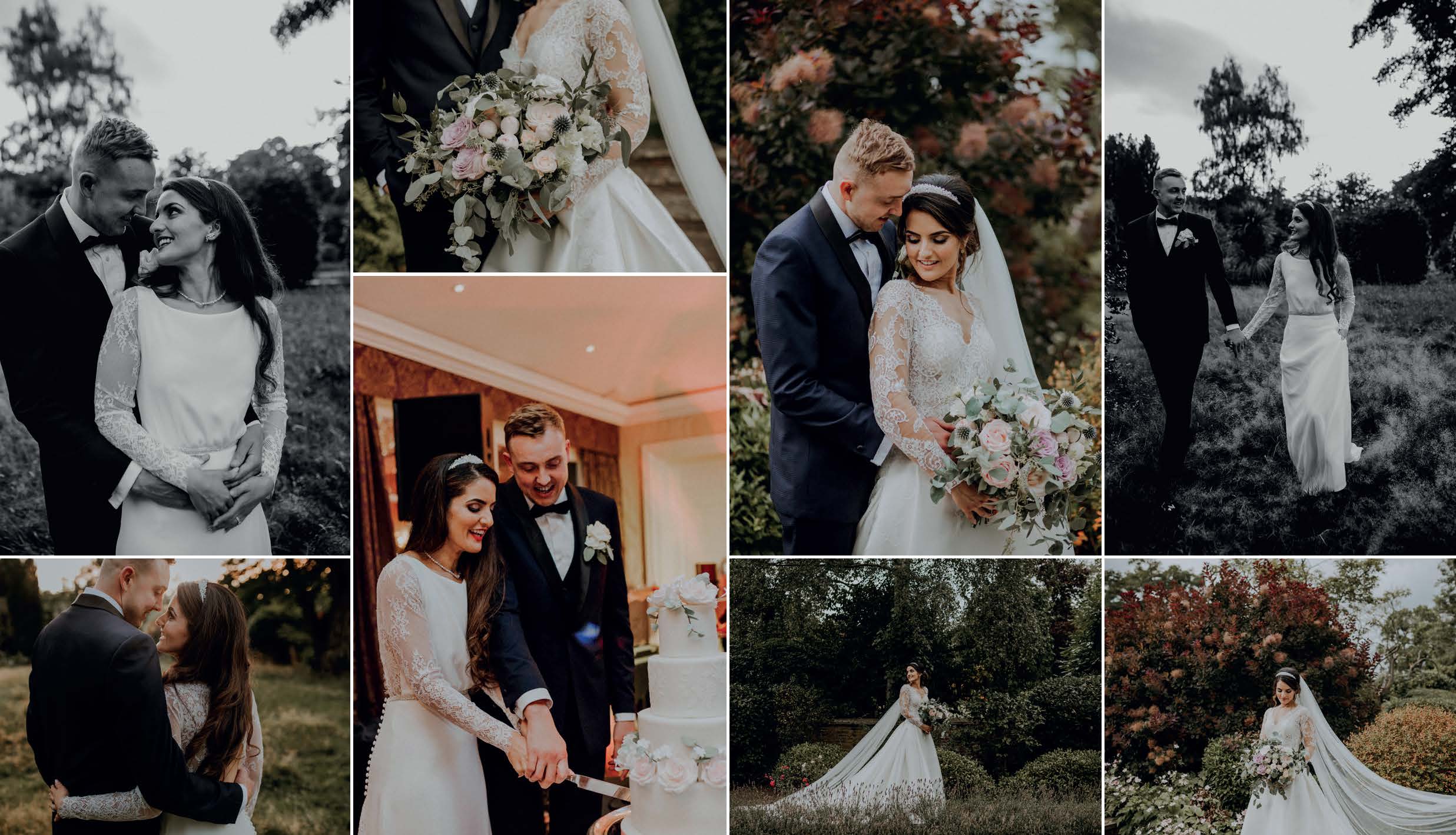 BEAUTIFUL BLUSH AT THE ROYAL BERKSHIRE
Relaxed, romantic and welcoming, this lovely wedding was full of personal touches. Our couple both enjoy their garden and wanted to include varieties that were special to them; from echinops and astrantia to roses and astilbe - and, of course, plenty of greenery to carry the garden theme through the day and complement the beautiful grounds of the Royal Berkshire. Gathered in a soft palette of blush pink and sage with subtle hints of vintage lilac for depth, the overall effect was elegant, natural and unobtrusive.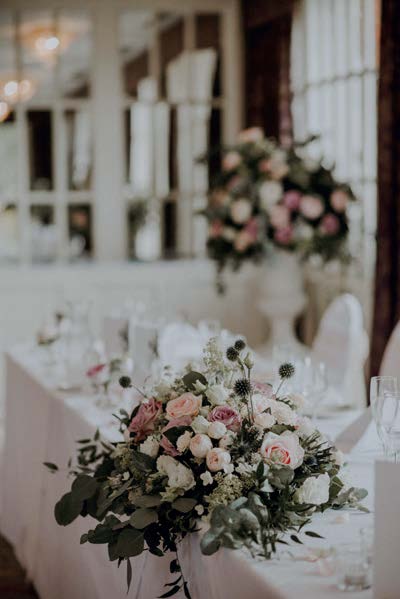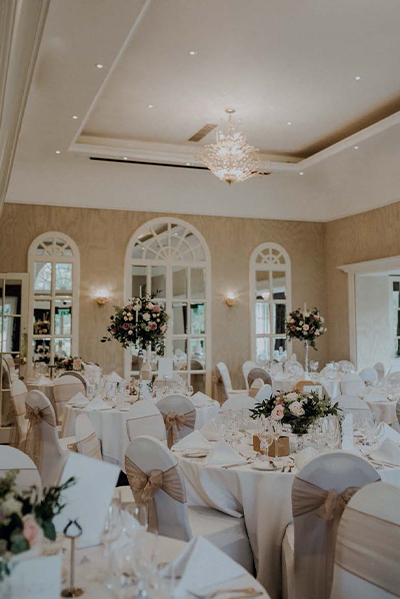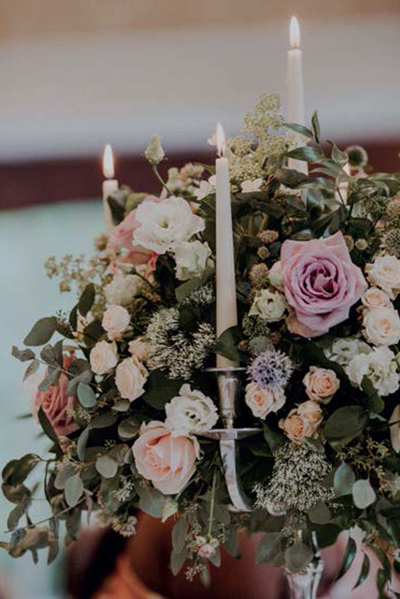 Photos © Lola Rose Photography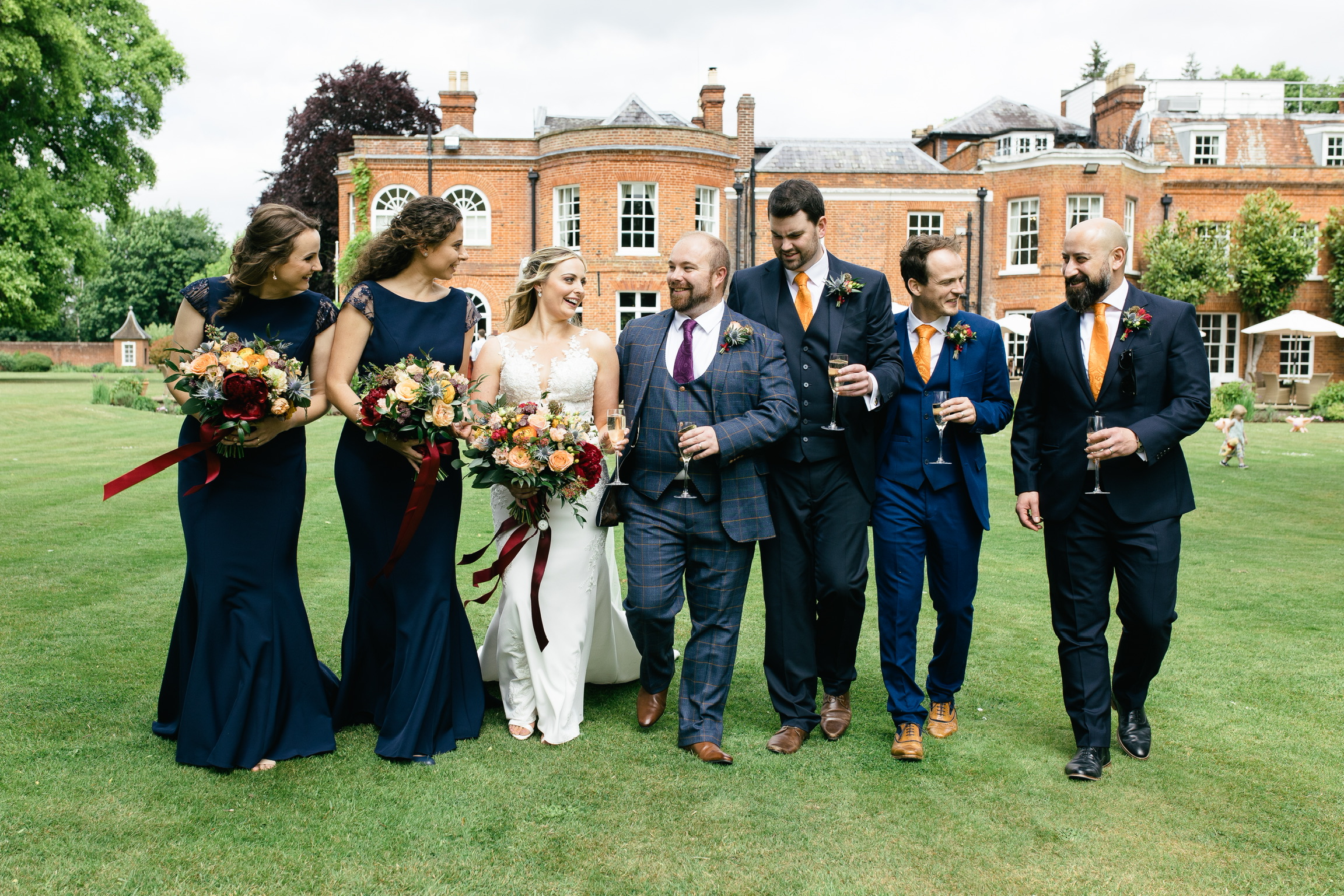 SHADES OF AUTUMN AT THE ROYAL BERKSHIRE
Foliage, herbs, seasonal berries and flowers in burnished jewel tones were the basis for this beautiful wedding; from the deep orange and burgundy of ranunculus and peonies to the petrol-blue of thistle and rosemary. Textural seed pods, copper accents and tactile ribbons complemented the rich fabrics of the bridal party outfits to truly style the season.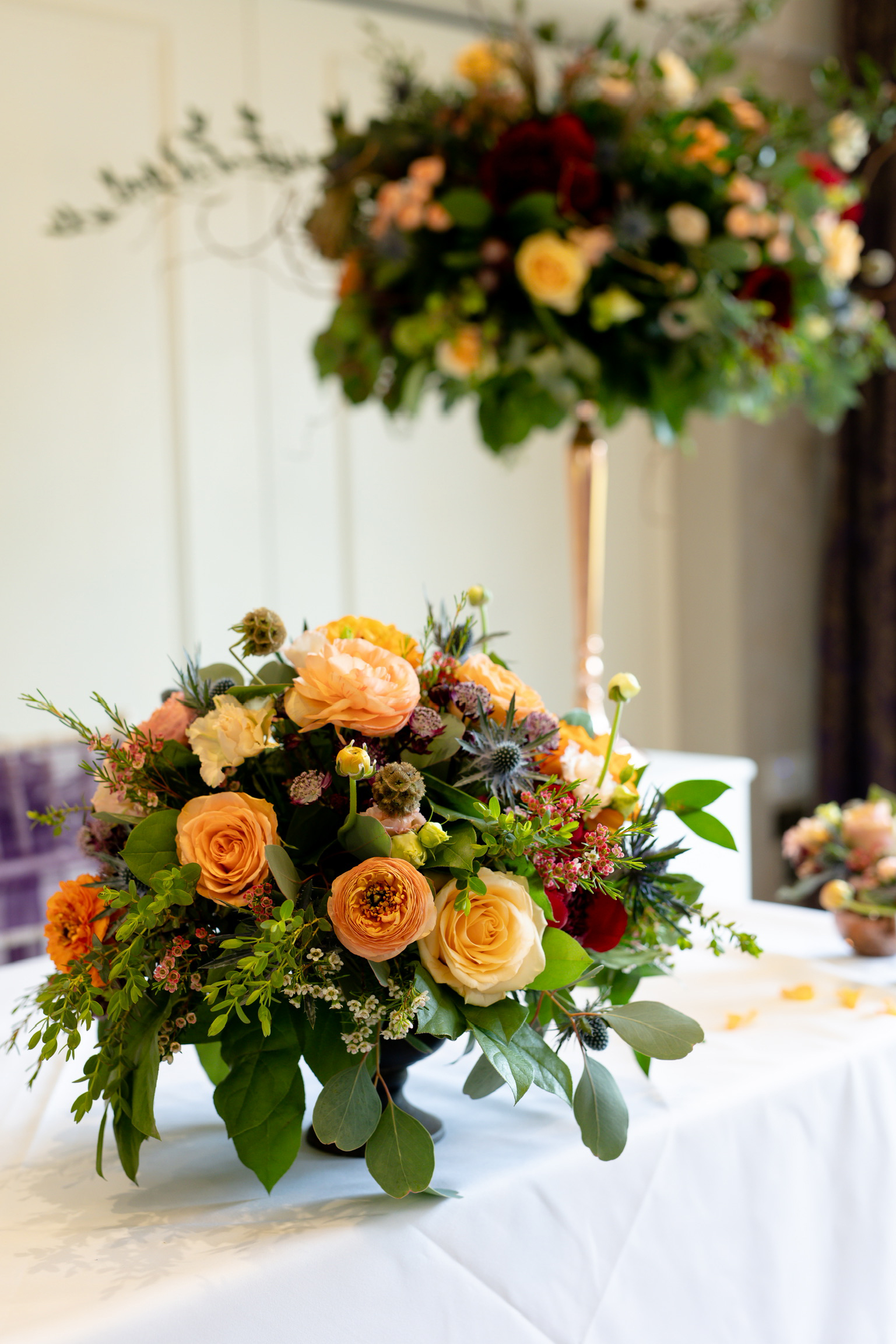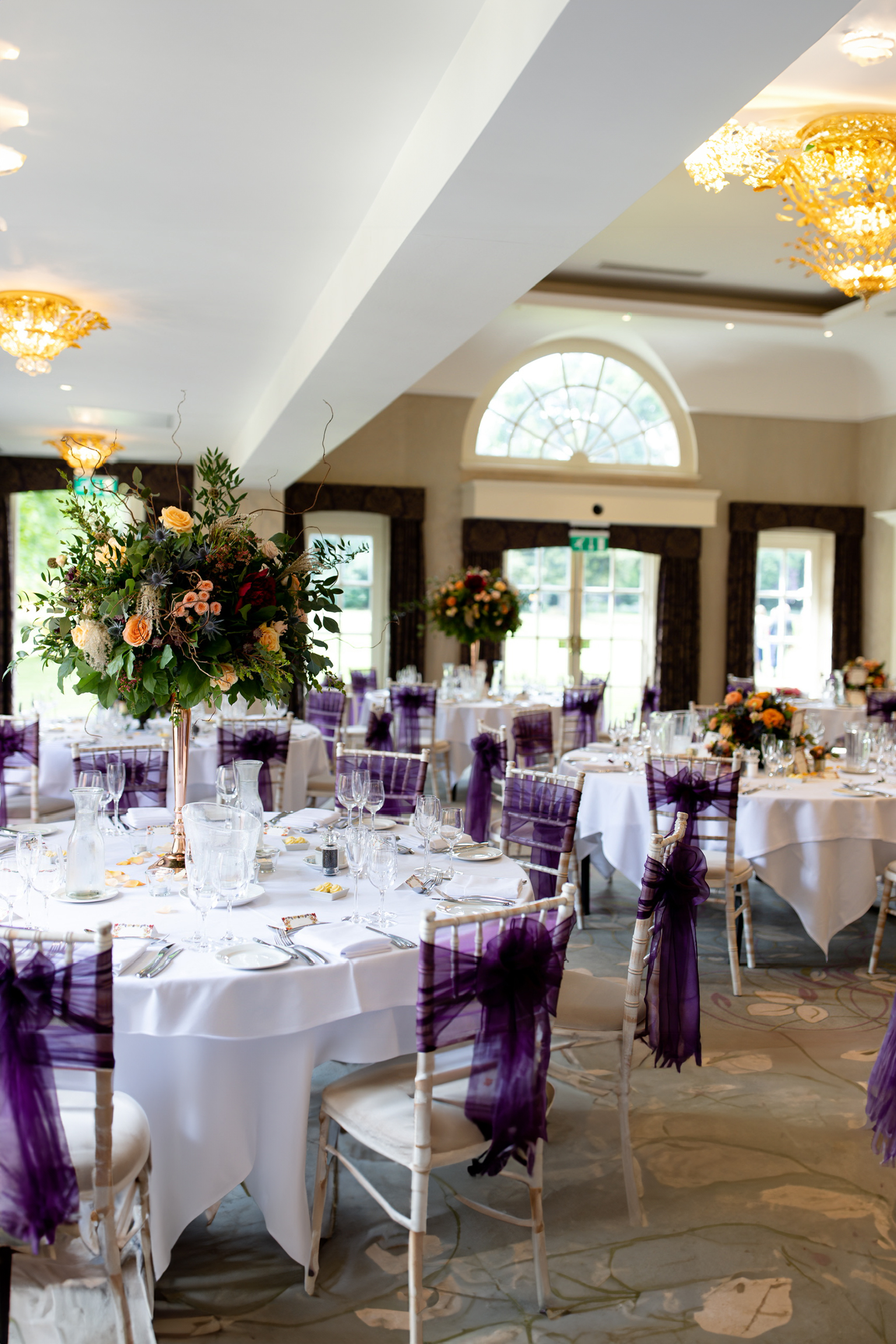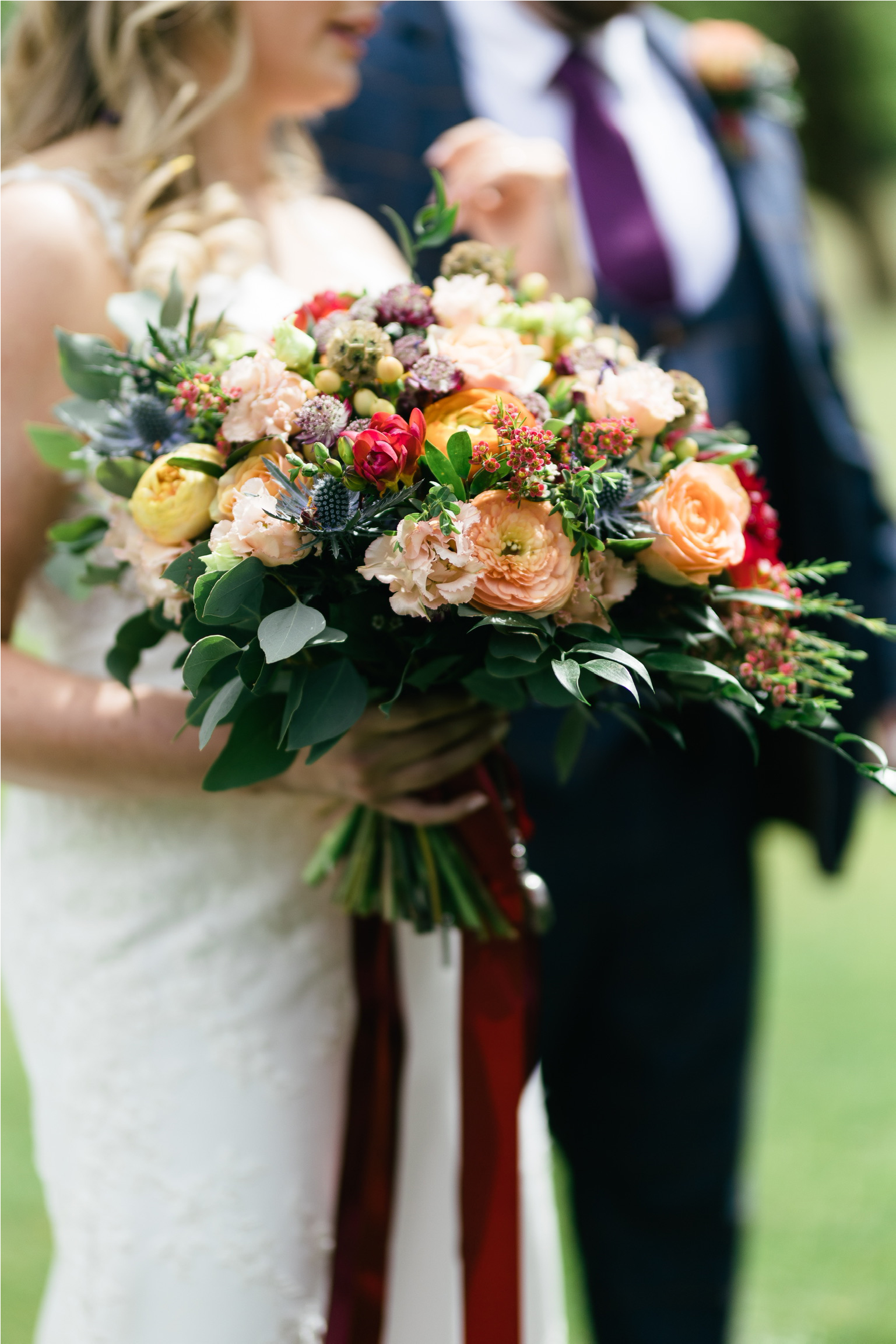 Photos © Leslie Choucard Photography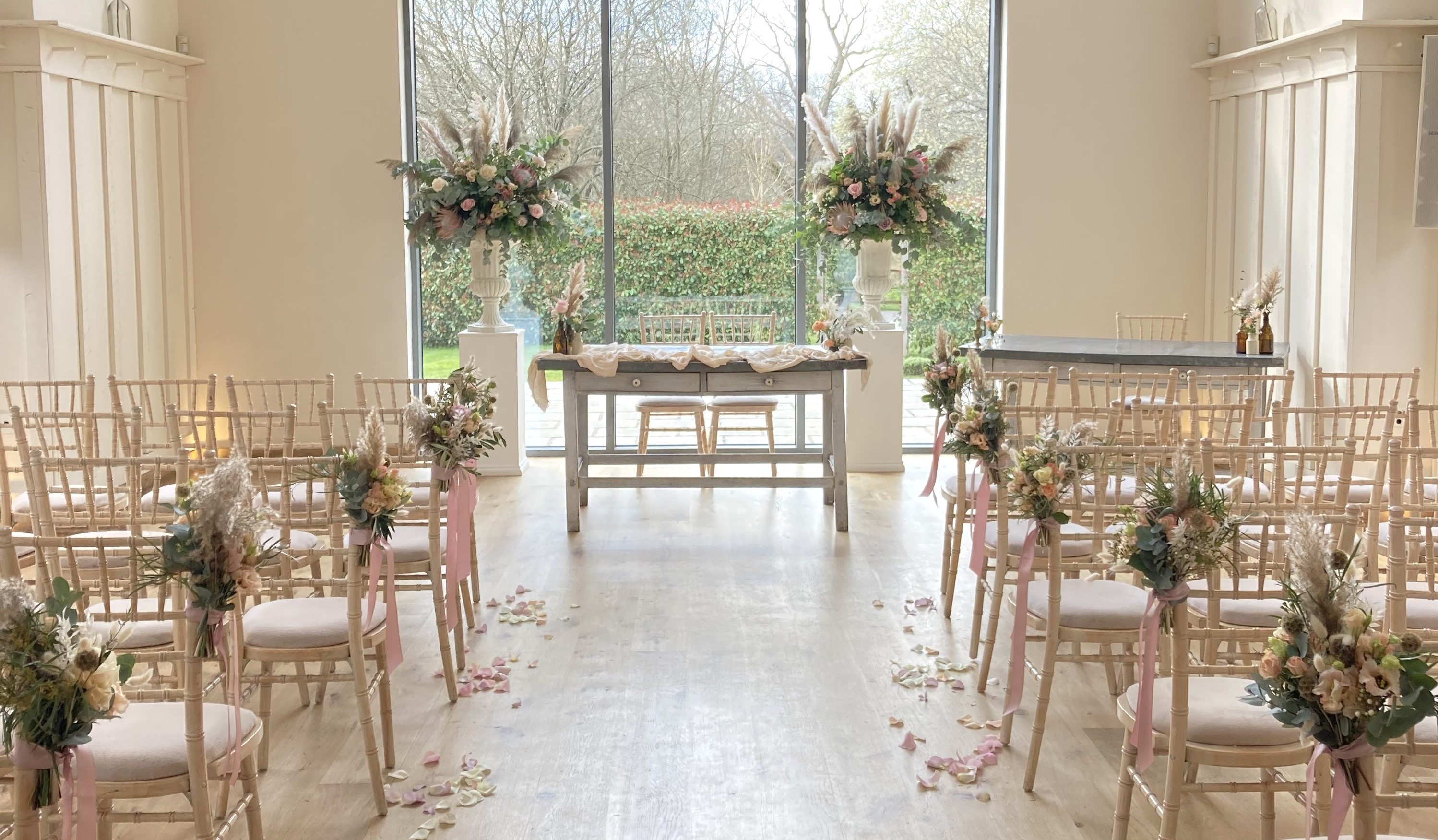 BEACHY PASTELS AT MILLBRIDGE COURT
Relaxed and welcoming, this warm, beachy palette was offset by grasses in muted shades of sand and sage.
Textural elements created a rustic-luxe look, from dramatic protea flowers and burnished silk ribbons to whispy bunny tails and burnt umber glassware. And all were complemented by the soft, gentle light of the Millbridge barn.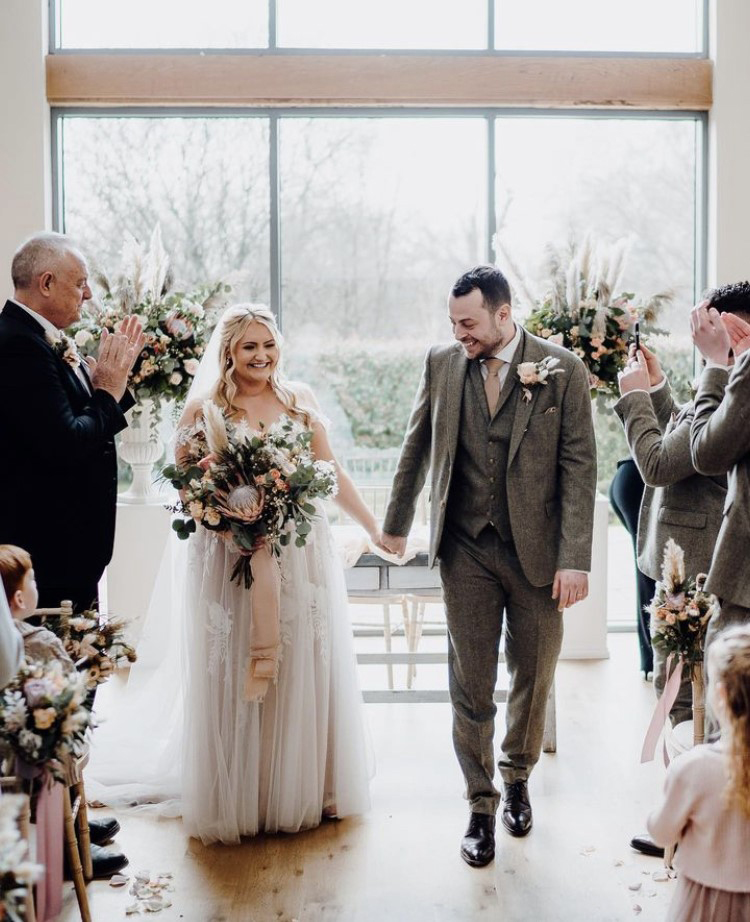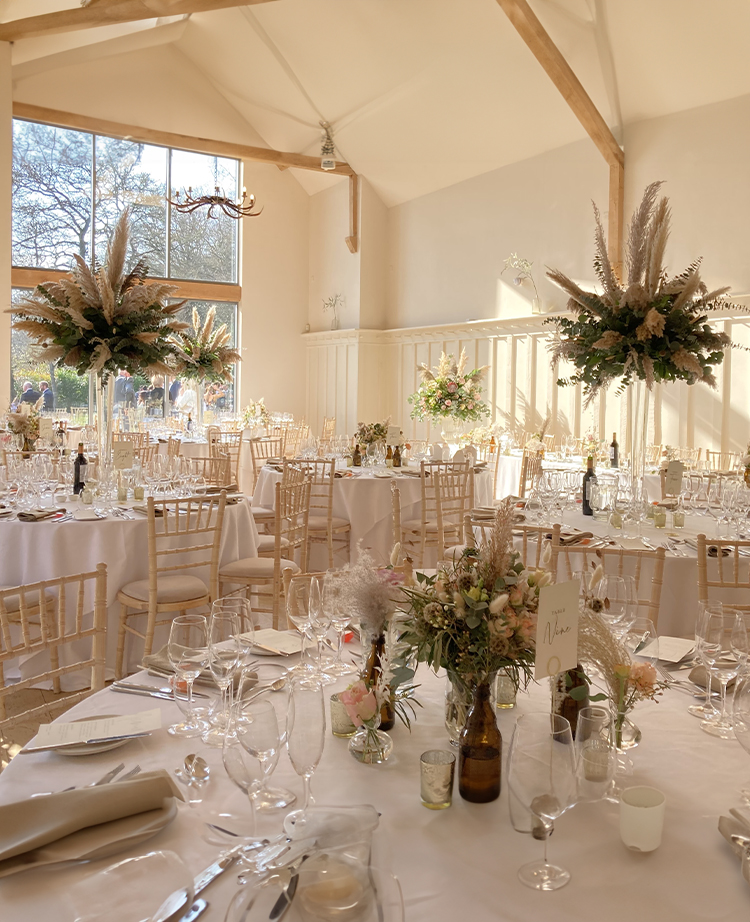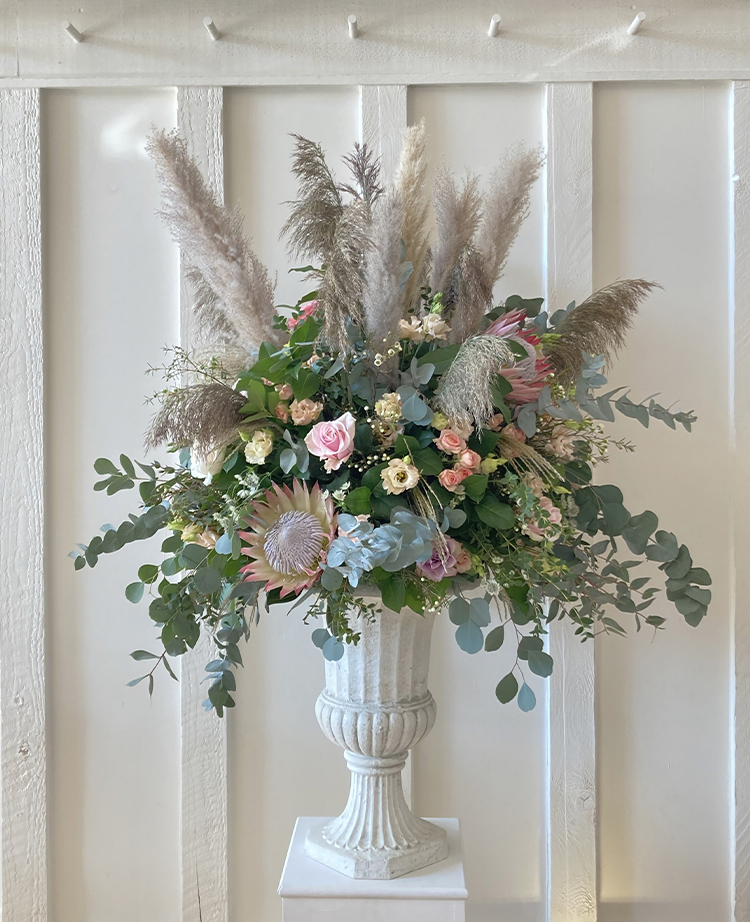 Photos © Leslie Choucard Photography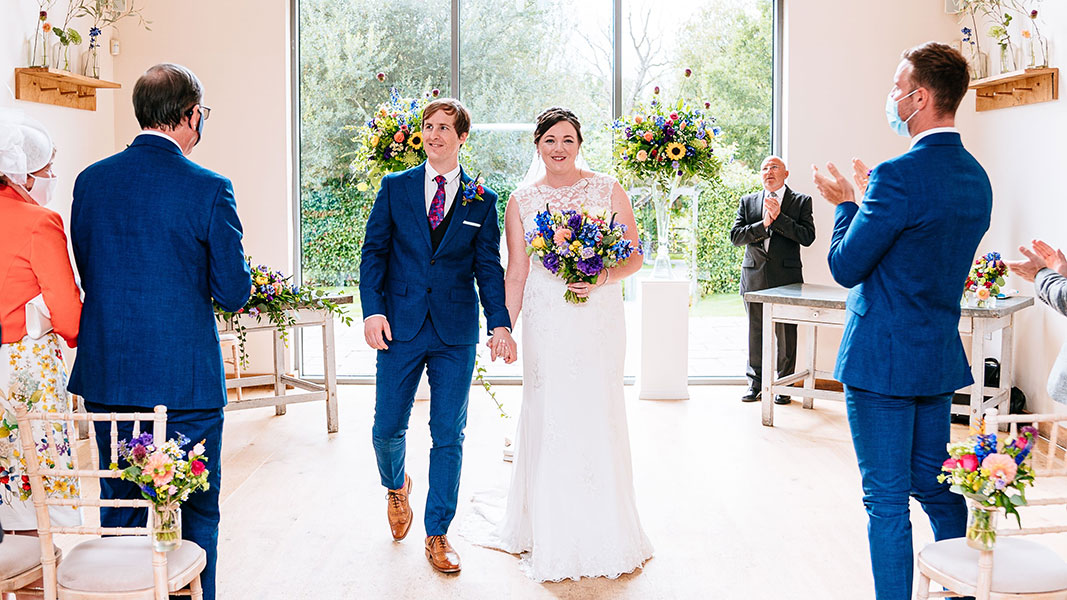 VIBRANT BRIGHTS AT MILLBRIDGE COURT
A September wedding was the perfect time to gather together all the vibrancy of late summer. Warm sunflowers and sky-blue delphinium, coral dahlias and cool alliums. All offset by trailing ivy, early autumn berries and added touches of colbalt blue.
A gorgeous transition into a new season.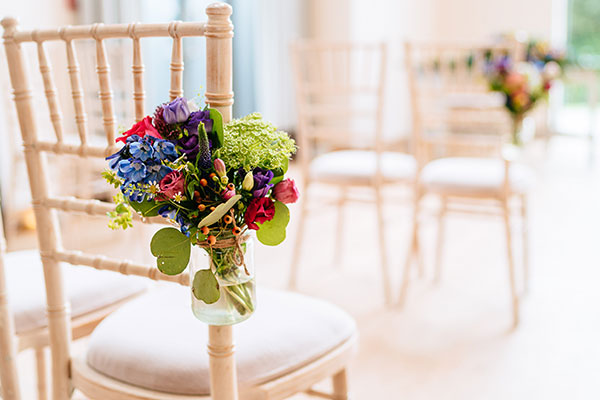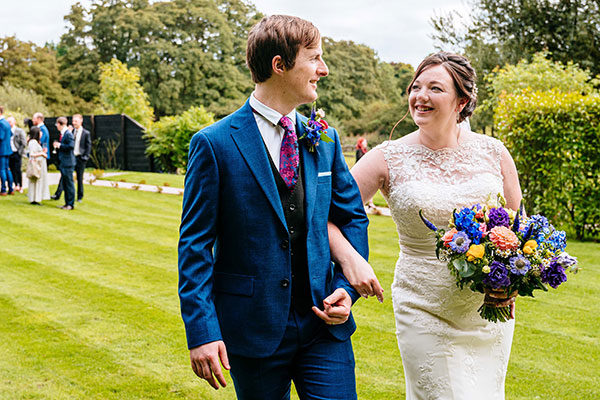 Photos © Sarah Legge Photography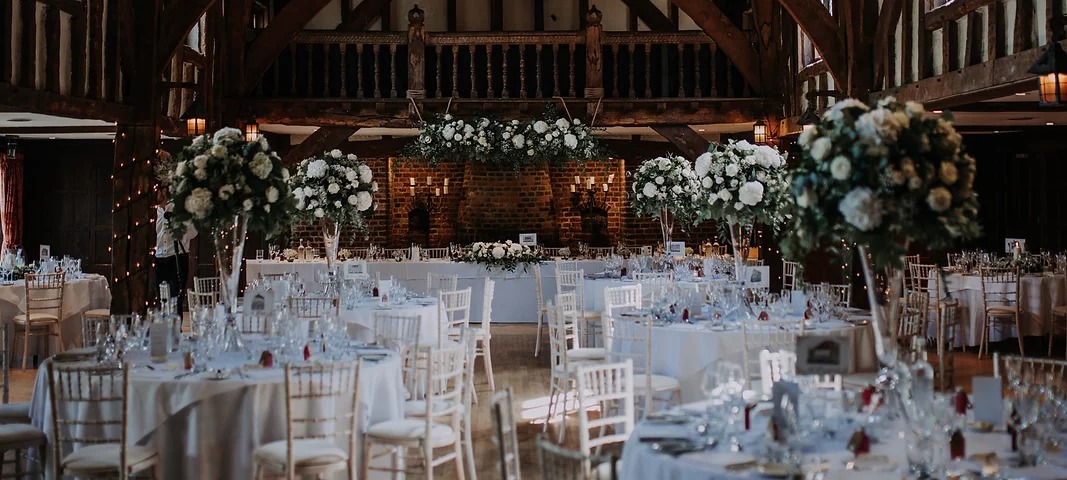 CLASSIC WHITE AND GREEN AT GREAT FOSTERS
Rich greens and abundant white flower set the tone for this beautiful summer wedding.
Fluffy hydrangea, ivory roses and papery lisianthus were set against flowing greenery for a natural, slightly rustic look that complimented the Great Hall perfectly. Delicate clouds of gypsophila softened the effect and a hanging canopy of hedgerow flowers added romance and drama.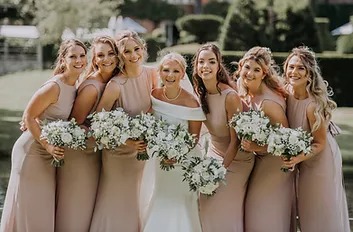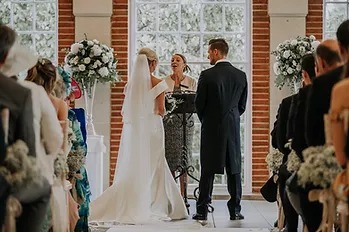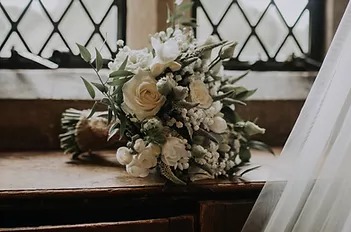 Photos © Mindy Coe Photography
VINTAGE IVORY AND BLUSH AT GREAT FOSTERS
Vintage roses in shades of blush, dusky pink and ivory formed the basis of this romantic and feminine wedding.
Three styles of centrepiece ensured that every table felt unique, and a top table filled with bud vases, candles and rose petals created a delicate floral runner over which the bride and groom could enjoy their guests.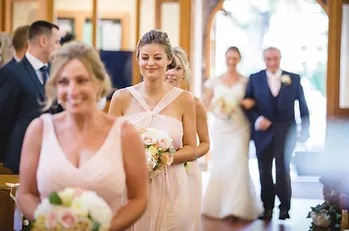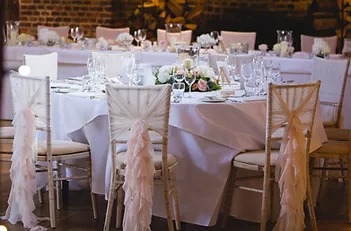 Photos © Sophie Shaw Photography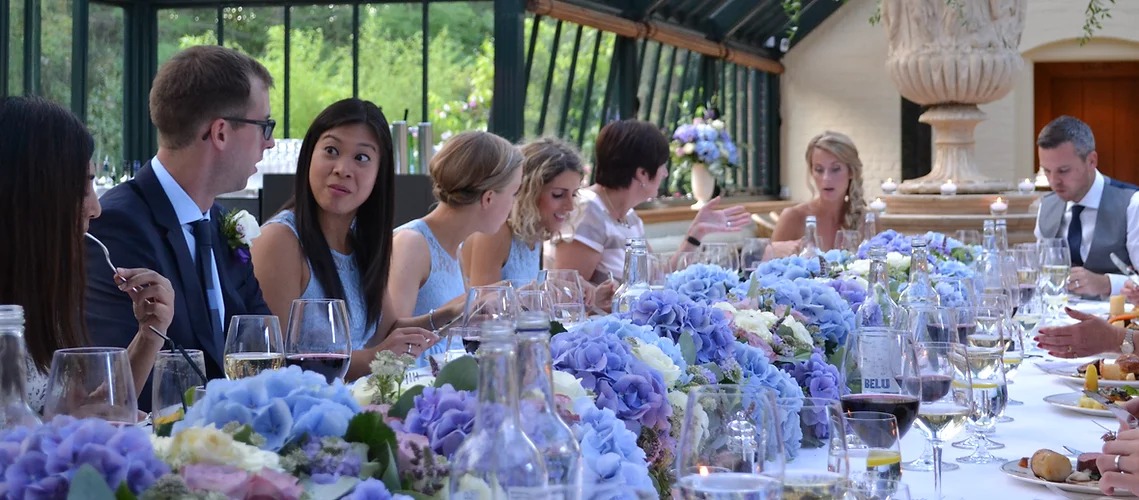 COUNTRY BLUES AT THE DAIRY, WADDESDON MANOR
For a Belgian bride who wanted a very English wedding, we chose lilac scabiosa, flowering mint, hydrangea in varying shades of blue and antique-mauve Memory Lane roses.
Vase arrangements in heirloom china decorated the ceremony space, while a luxurious floral table runner and tea lights adorned the dining table. For an extra touch of the British countryside, we added delphinium and cascading foliage to The Dairy's striking urn.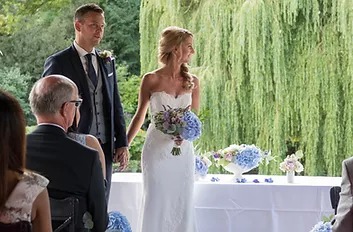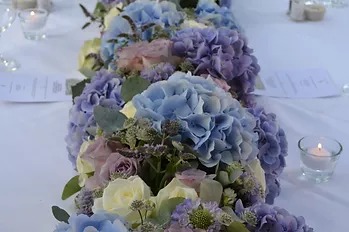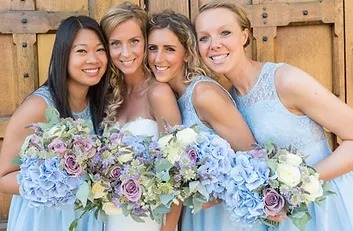 Photos © Stuart Bebb Photography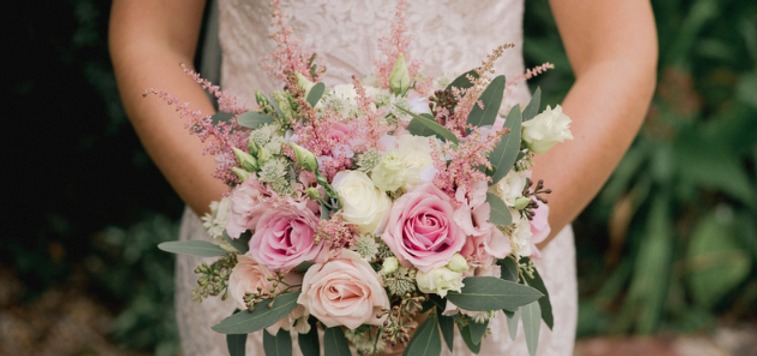 SHADES OF PINK AT NORTHBROOK PARK
Relaxed, elegant and warm, this blush and dusky pink palette was offset by berried populus, whispy astilbe
and plenty of rich greenery. Pretty touches were everywhere, from a petal strewn aisle, to floral placeholders and a cake garlanded in flower. Rose gold accents ensured that the scheme remained pure grown-up glamour.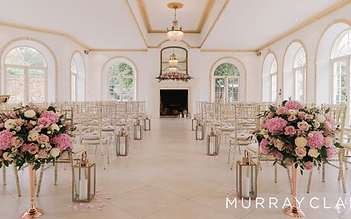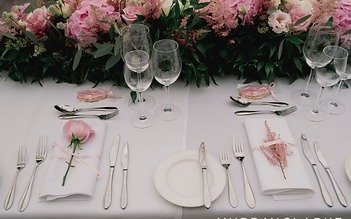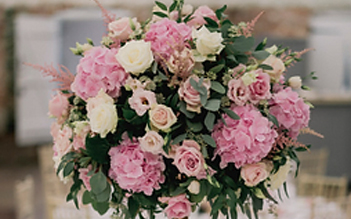 Photos © Murray Clarke Photography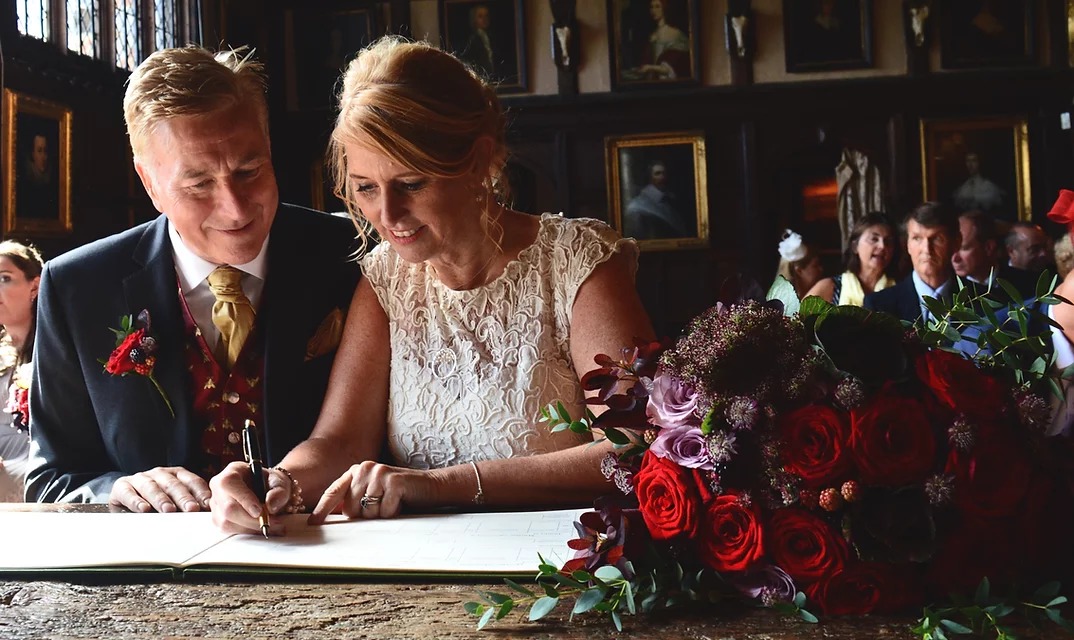 RICH REDS AT DORNEY COURT
An autumn wedding at this historical venue calls for rich, bold colours and lots of texture.
Red roses were of special significance to our couple so we used lilac and burgundy accents to really help them shine. And for a bride who wanted something characterful to go with them, we chose blackberries, ornamental brassica and plenty of seasonal foliage in deep aubergine shades.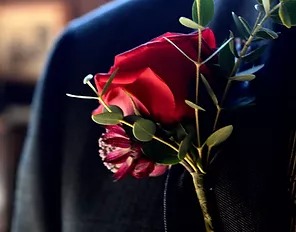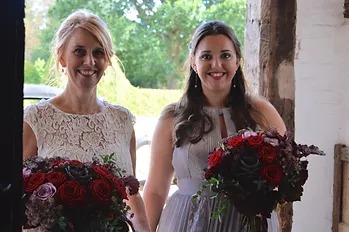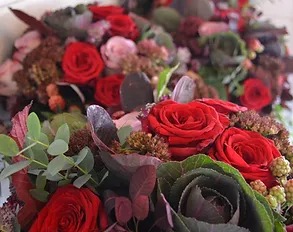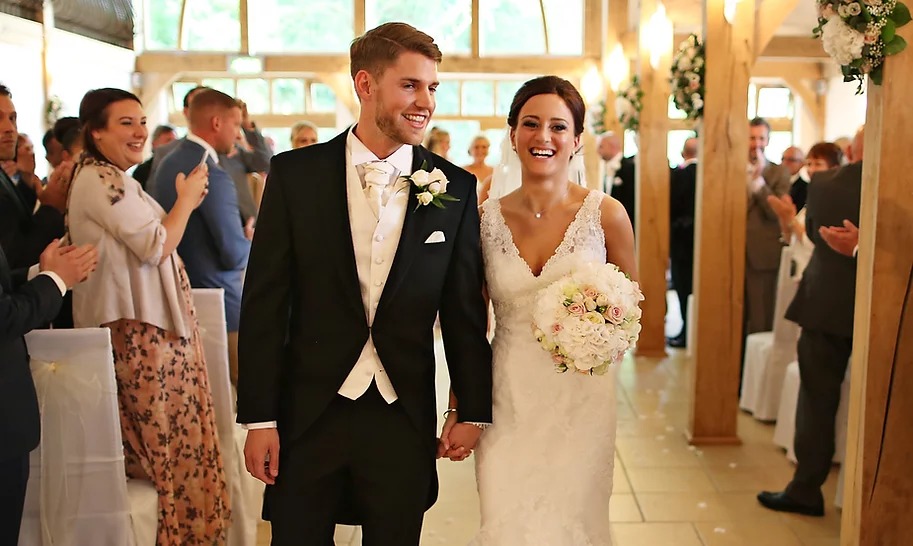 BLUSH AND IVORY AT RIVERVALE BARN
Soft pink Avalanche roses were the basis for this romantic summer wedding, beautifully supported by lacy white hydrangea.
Ivory lanterns and rose petals adorned the aisle, while accents of gypsophila and silvery eucalyptus created a light,
dreamy feel in these pretty florals.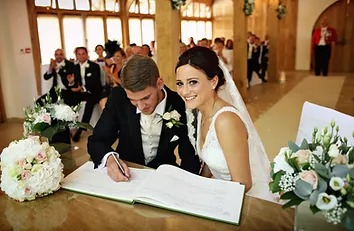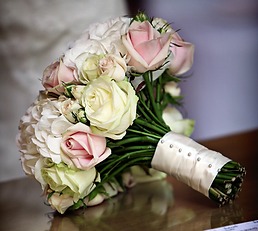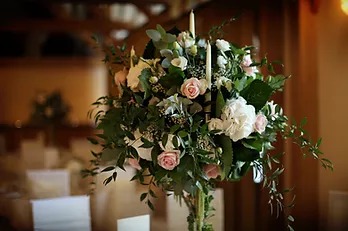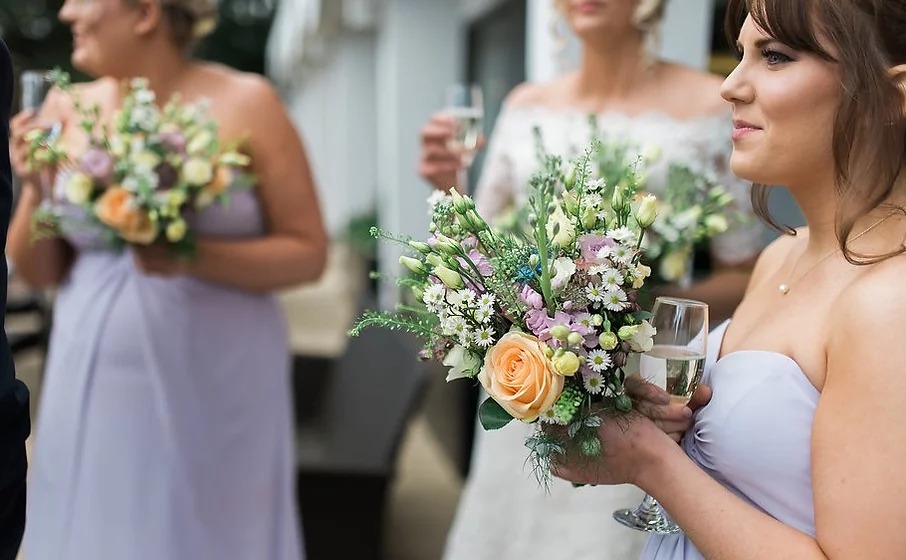 WILD AND GATHERED AT THE BERYSTEDE
'Flowers gathered from a meadow': this was the brief for a relaxed spring wedding.
Bouquets, jam jars and candelabras filled with blue nigella, delicate september daisies and creamy lisianthus were complimented by soft pink stocks and antiqued roses in mismatched shades of lilac and peach.
Bushels of flowing greenery enhanced the undone, just-picked feel.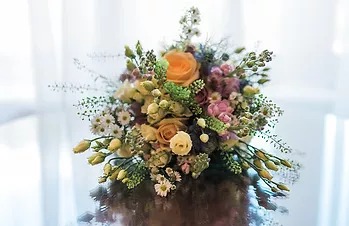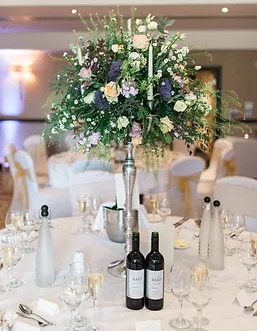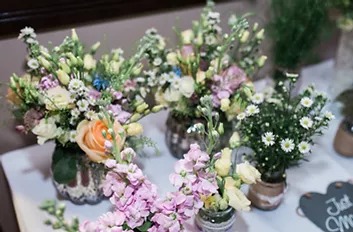 Photos © Christy-Leigh Photography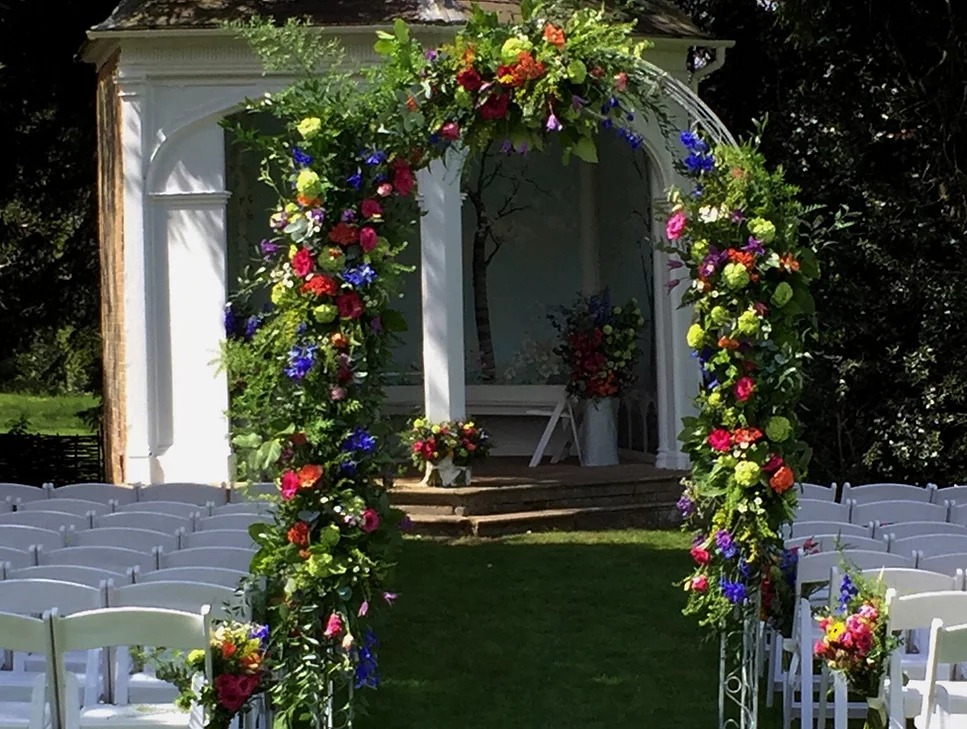 WILD FLOWER AT WASING PARK
For her wedding in the heart of the Berkshire countryside, our bride wanted her flowers to remain in keeping with the setting - abundant greenery, naturally arranged and nothing too formal or contrived.
A loose floral arch marked the entrance to the aisle of the outdoor ceremony and gathered posies of mismatched spring flower sat alongside potted plants on the guest tables. Slightly wilder candelabra arrangements provided height and, to ensure the room retained a relaxed and inviting air, all the flowers were weaved through items of personal significance to the bride and groom.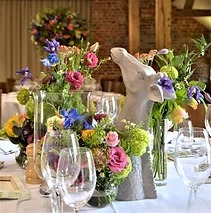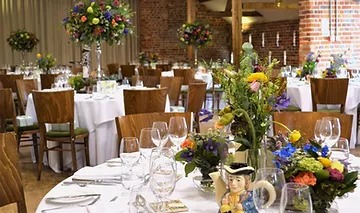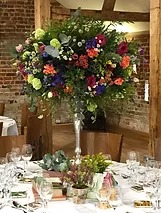 feeling inspired?
If you would like to find out a little more about how we can bring your dream wedding flowers to life, our Wedding Services Guide provides additional information about us; our values, our work and our prices.
The Floral Experience will take you through the process of choosing your flowers, from initial ideas through to what to expect on the day. And if you are ready to have a chat, do book a date for a complementary consultation.
We'd love to meet you.