Wedding Gallery
Welcome to our gallery of wedding flowers.
We have had the privilege of designing flowers for many weddings and our florals have graced the rooms of some of the most beautiful venues in Berkshire and Surrey, including Botleys Mansion, Coworth Park, Dorney Court, Great Fosters, Northbrook Park, Rivervale Barn and Wentworth Club. Each and every one was an honour to work on and we hope you find as much joy in viewing them as we did in creating them - and maybe some inspiration too.
If you prefer to search by venue, simply click on the name above.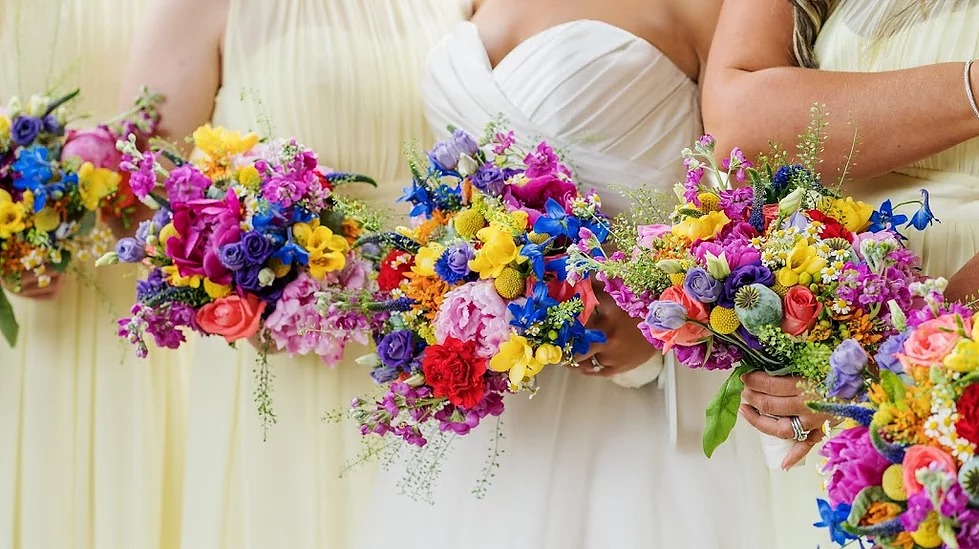 COLOUR AT AUDLEYS WOOD
A June wedding with a truly joyful brief: relaxed and whimsical with a rainbow of colour.
Sapphire cornflowers, magenta stocks, fiery garden roses, orange ascelpsias and fuchsia peonies created a bright colour base, with yellow craspedia and green bell foliage adding texture. Arranged loosely using informal glassware and coupled with mismatched buttonholes and delicate flower crowns, the end result was as vibrant and cheerful as a summer garden.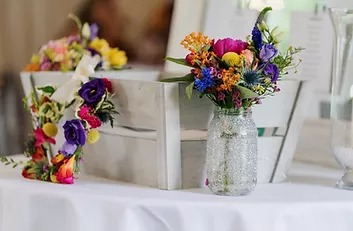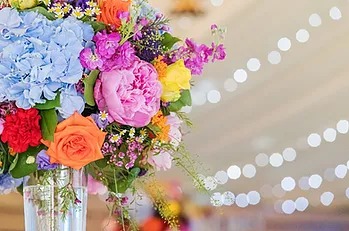 Photos © Lemontree Photography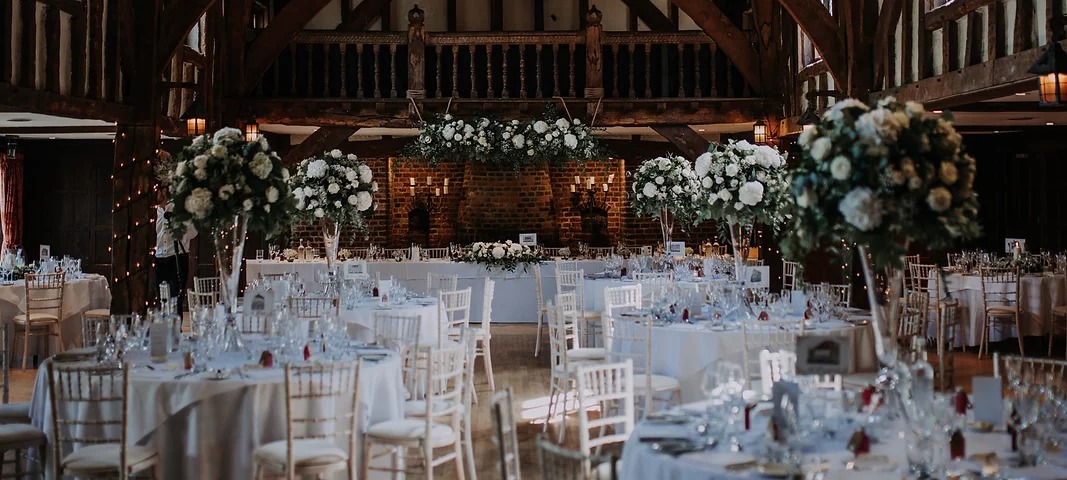 CLASSIC WHITE AND GREEN AT GREAT FOSTERS
Rich greens and abundant white flower set the tone for this beautiful summer wedding.
Fluffy hydrangea, ivory roses and papery lisianthus were set against flowing greenery for a natural, slightly rustic look that complimented the Great Hall perfectly. Delicate clouds of gypsophila softened the effect and a hanging canopy of hedgerow flowers added romance and drama.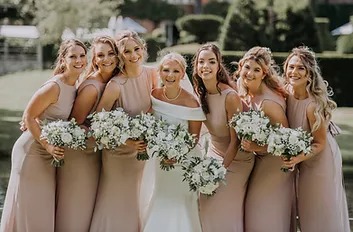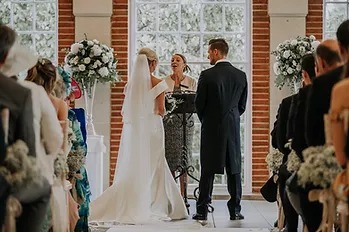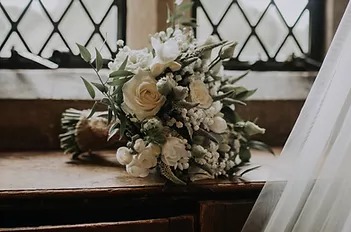 Photos © Mindy Coe Photography
VINTAGE IVORY AND BLUSH AT GREAT FOSTERS
Vintage roses in shades of blush, dusky pink and ivory formed the basis of this romantic and feminine wedding.
Three styles of centrepiece ensured that every table felt unique, and a top table filled with bud vases, candles and rose petals created a delicate floral runner over which the bride and groom could enjoy their guests.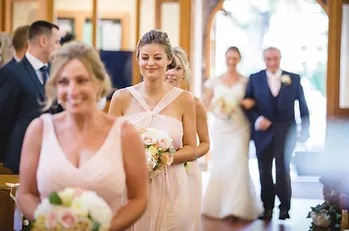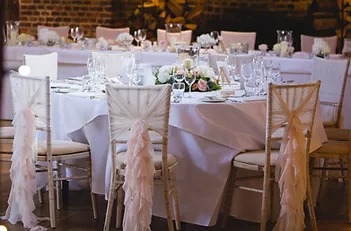 Photos © Sophie Shaw Photography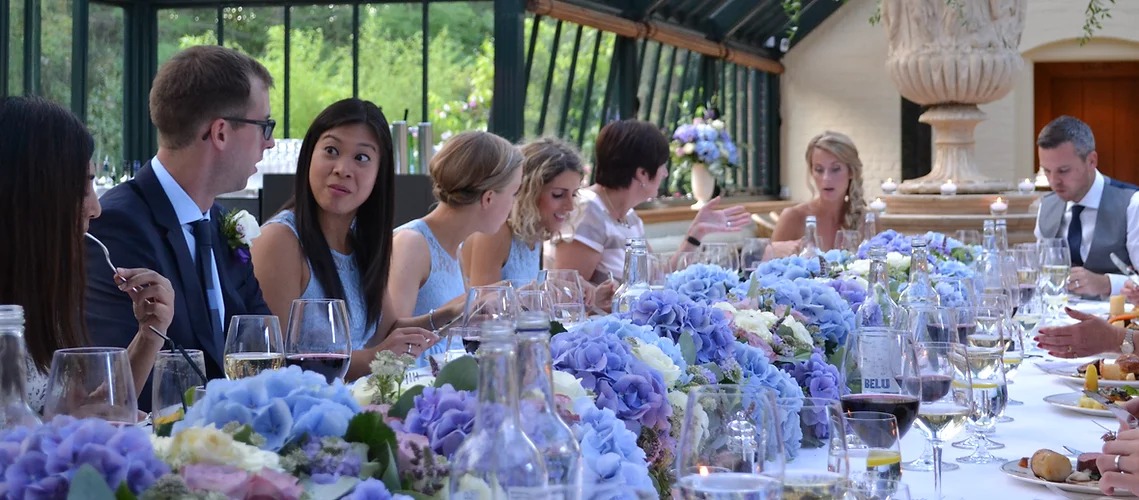 COUNTRY BLUES AT THE DAIRY, WADDESDON MANOR
For a Belgian bride who wanted a very English wedding, we chose lilac scabiosa, flowering mint, hydrangea in varying shades of blue and antique-mauve Memory Lane roses.
Vase arrangements in heirloom china decorated the ceremony space, while a luxurious floral table runner and tea lights adorned the dining table. For an extra touch of the British countryside, we added delphinium and cascading foliage to The Dairy's striking urn.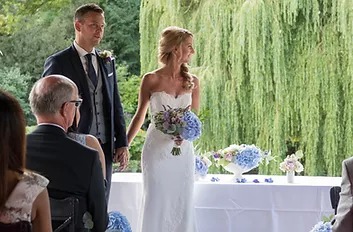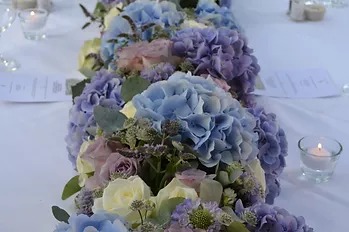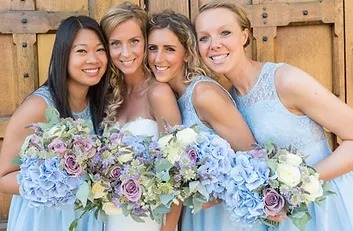 Photos © Stuart Bebb Photography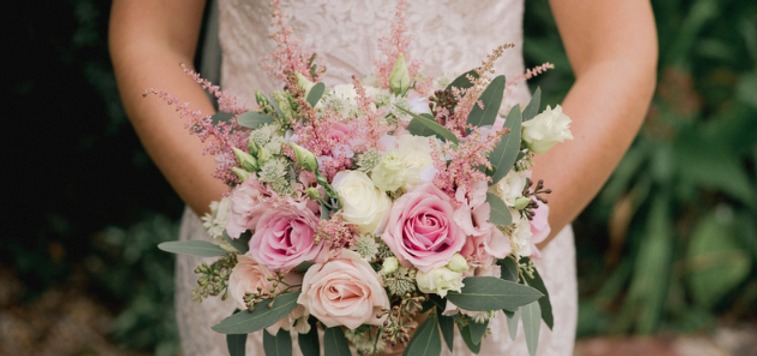 SHADES OF PINK AT NORTHBROOK PARK
Relaxed, elegant and warm, this blush and dusky pink palette was offset by berried populus, whispy astilbe
and plenty of rich greenery. Pretty touches were everywhere, from a petal strewn aisle, to floral placeholders and a cake garlanded in flower. Rose gold accents ensured that the scheme remained pure grown-up glamour.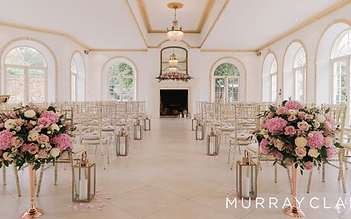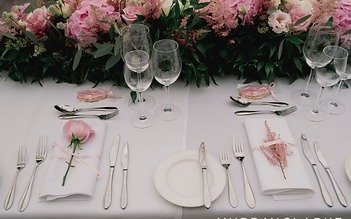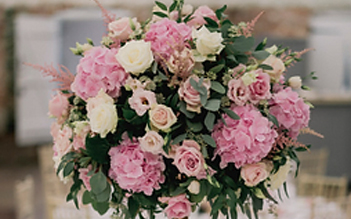 Photos © Murray Clarke Photography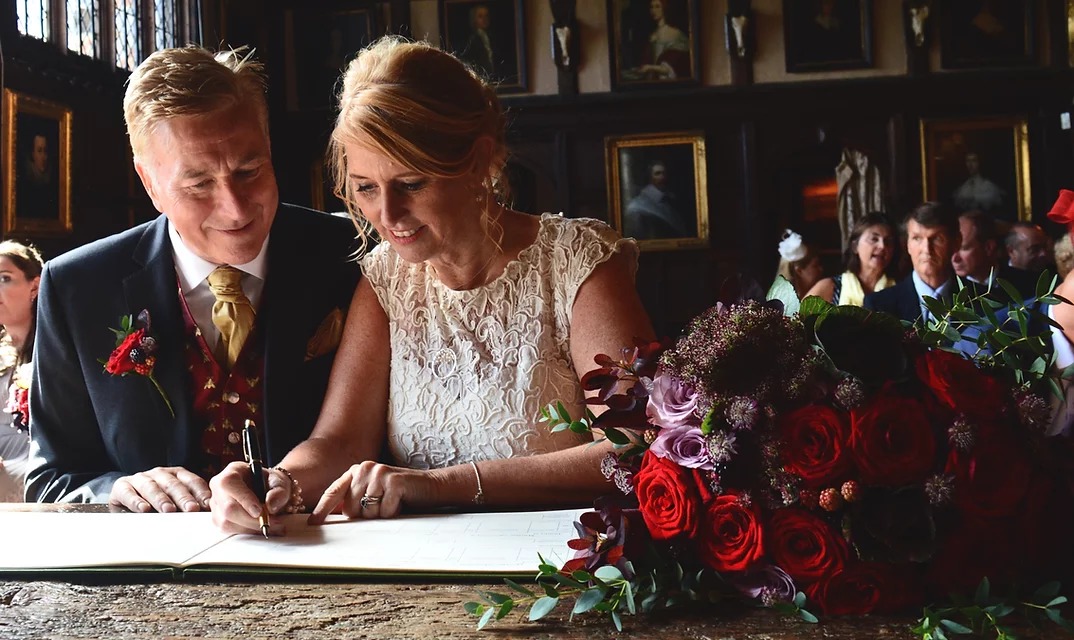 RICH REDS AT DORNEY COURT
An autumn wedding at this historical venue calls for rich, bold colours and lots of texture.
Red roses were of special significance to our couple so we used lilac and burgundy accents to really help them shine. And for a bride who wanted something characterful to go with them, we chose blackberries, ornamental brassica and plenty of seasonal foliage in deep aubergine shades.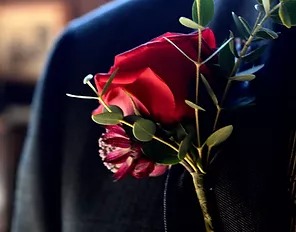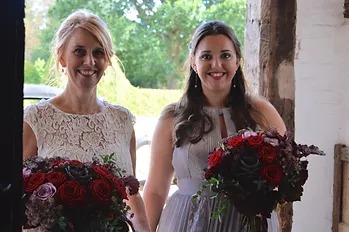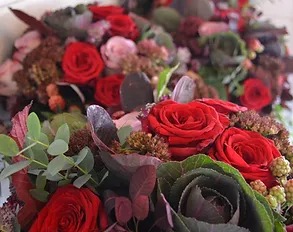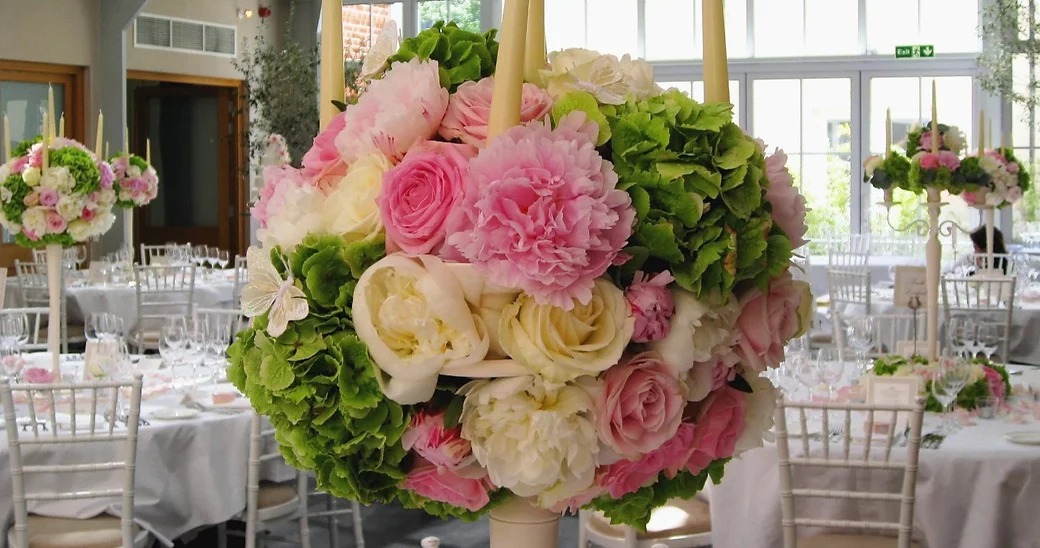 PEONIES AT BOTLEYS MANSION
Glamorous, romantic and luxurious: this was the brief for an early summer wedding at the beautiful Botleys Mansion.
Pale pink peonies and green hydrangea took centre stage with blush and ivory roses lending a romantic accent. Two different styles of candelabra dressed the tables, while the bride and groom made their entrance down a stairwell strewn with flower heads and petals.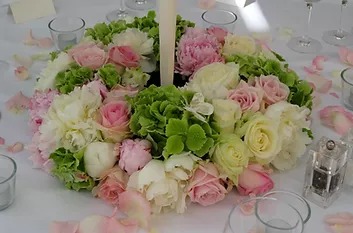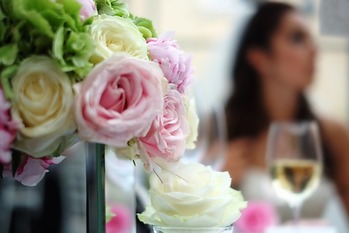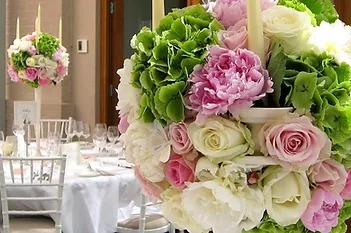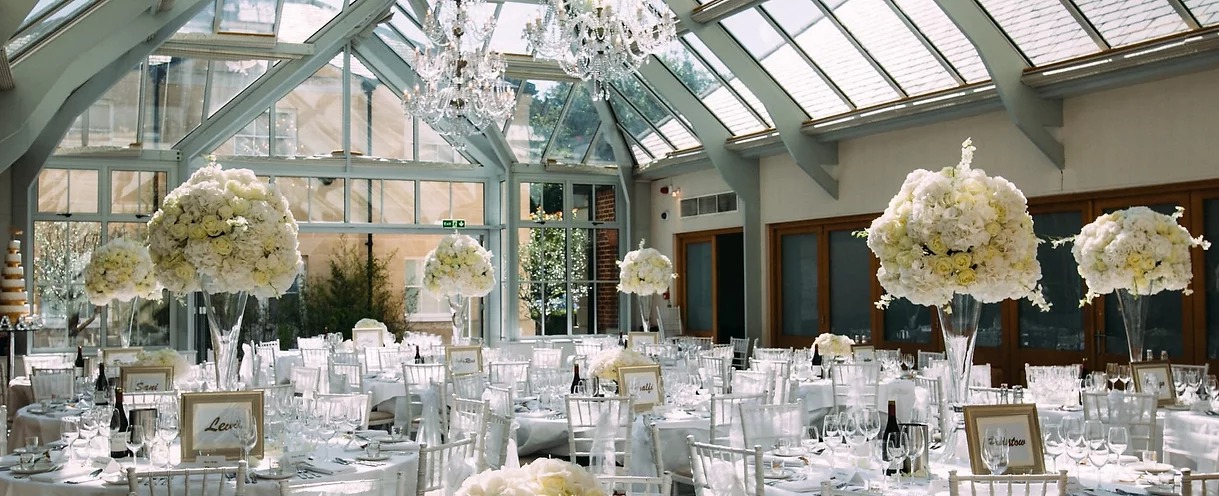 ELEGANT IVORY AT BOTLEYS MANSION
When your venue is as airy as this lovely conservatory, it makes sense to emphasise it.
Heady clouds of white orchid, creamy Avalanche roses and ivory hydrangea combined with elegant glassware to fill this wedding with light and to make the most of Botleys' bright interior.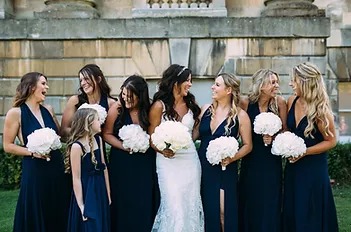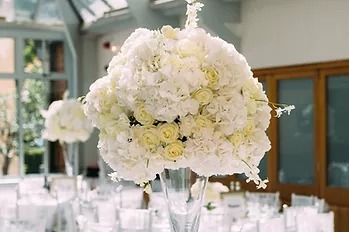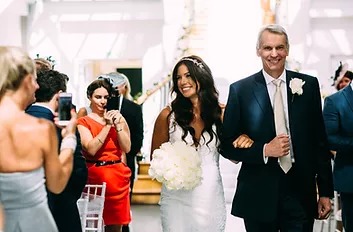 Photos © Helen Abraham Photography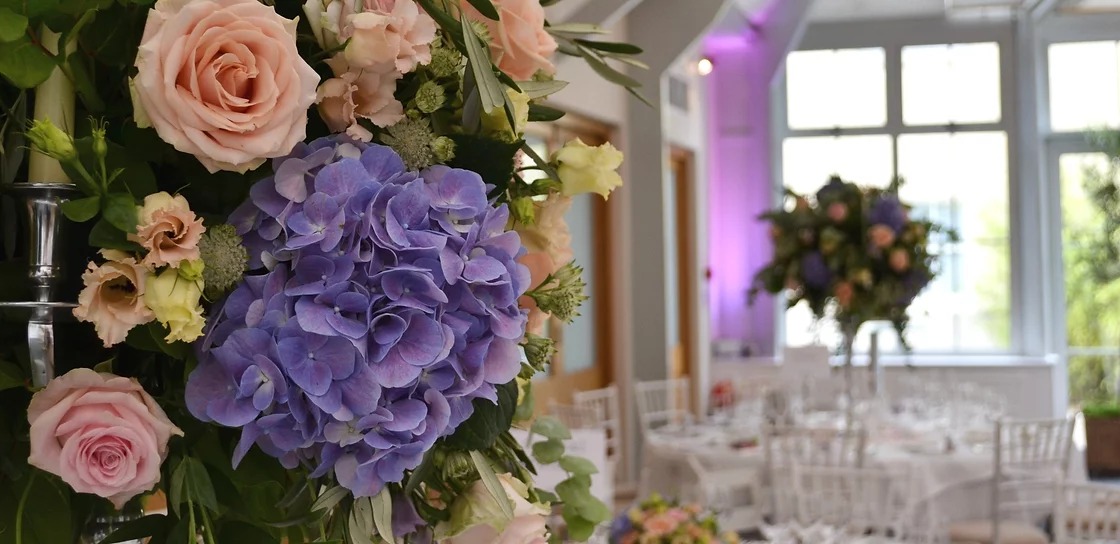 SUMMER PASTELS AT BOTLEYS MANSION
For a bride and groom who had lived all over the world, we chose a gentle splash of colour to bring summer inside.
Soft pastel roses, lavender hydrangea, silver olive leaf, trailing ivy and loosely arranged table centres at varying heights all contributed to a reception space that spoke of warmer climes and summer sunsets.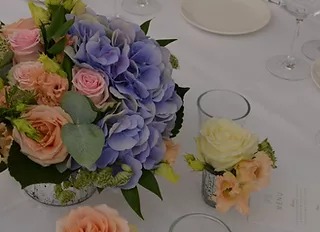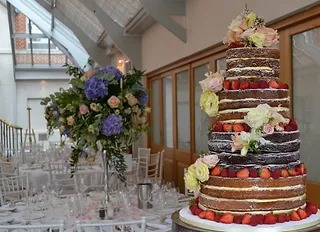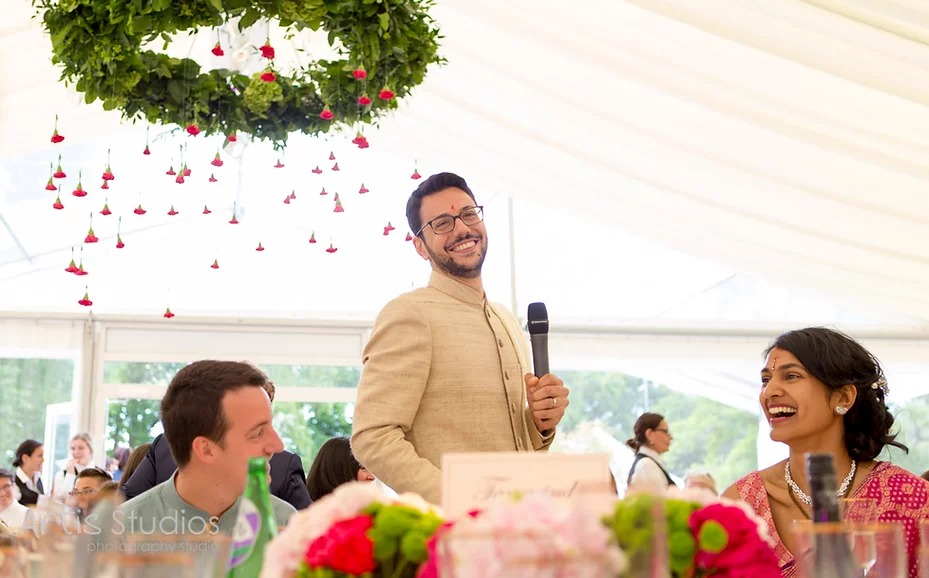 VIBRANT COLOUR IN A PRIVATE MARQUEE
With such a striking colour palette, we opted to keep the floral arrangements for this lovely wedding simple.
Grouped posies of zesty lime green and hot pink decorated the guest tables (and made attractive favours at the end of the day) and floral chandeliers, complete with floating carnations, added extra drama to the marquee.
A mandap draped in flowers was the finishing touch.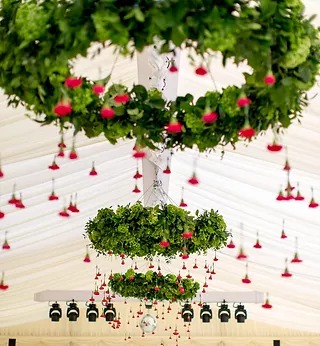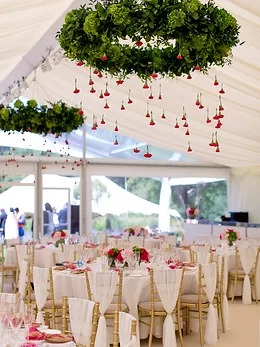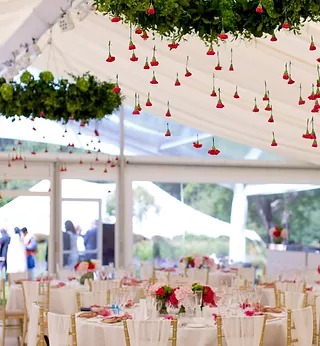 Photos © Artis Studios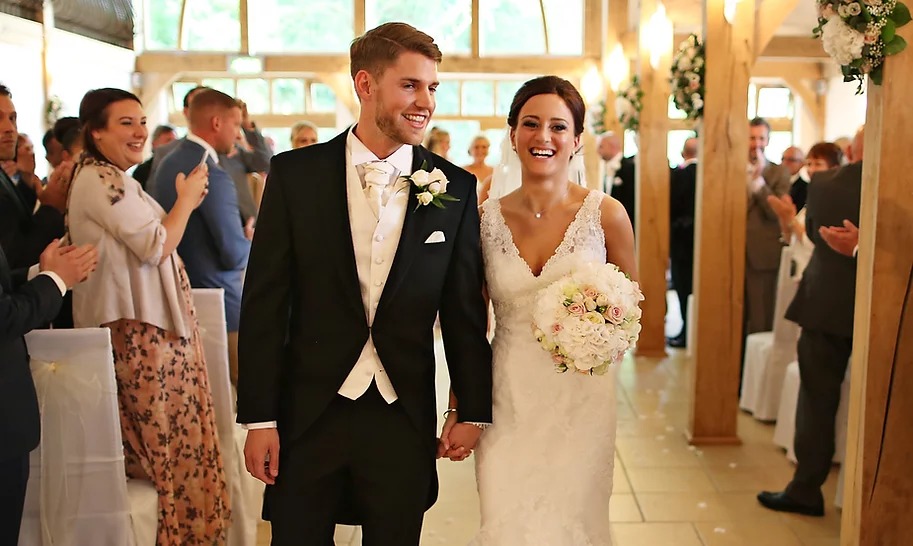 BLUSH AND IVORY AT RIVERVALE BARN
Soft pink Avalanche roses were the basis for this romantic summer wedding, beautifully supported by lacy white hydrangea.
Ivory lanterns and rose petals adorned the aisle, while accents of gypsophila and silvery eucalyptus created a light,
dreamy feel in these pretty florals.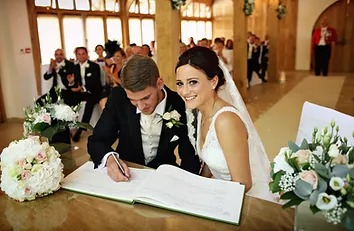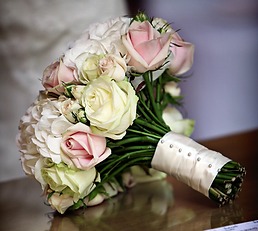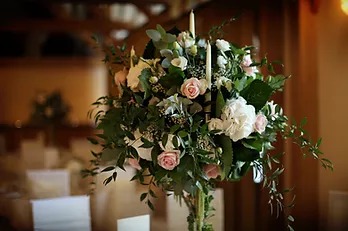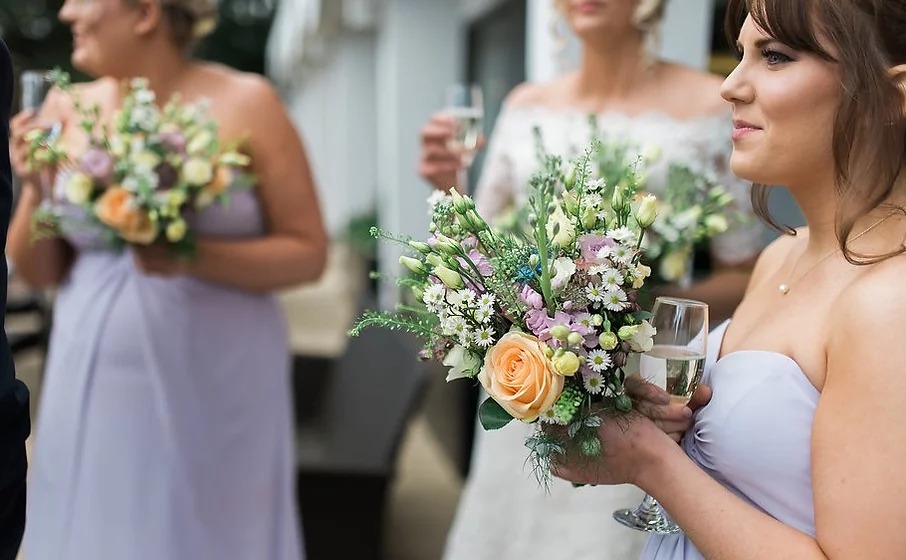 WILD AND GATHERED AT THE BERYSTEDE
'Flowers gathered from a meadow': this was the brief for a relaxed spring wedding.
Bouquets, jam jars and candelabras filled with blue nigella, delicate september daisies and creamy lisianthus were complimented by soft pink stocks and antiqued roses in mismatched shades of lilac and peach.
Bushels of flowing greenery enhanced the undone, just-picked feel.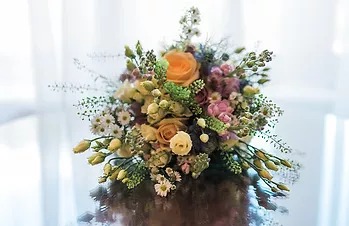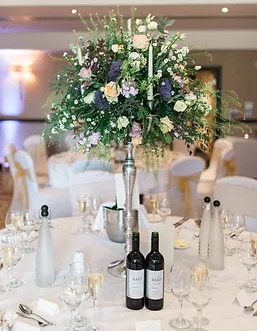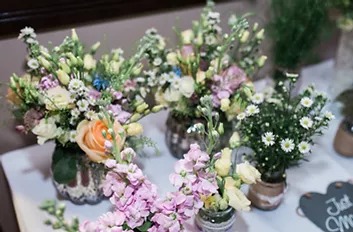 Photos © Christy-Leigh Photography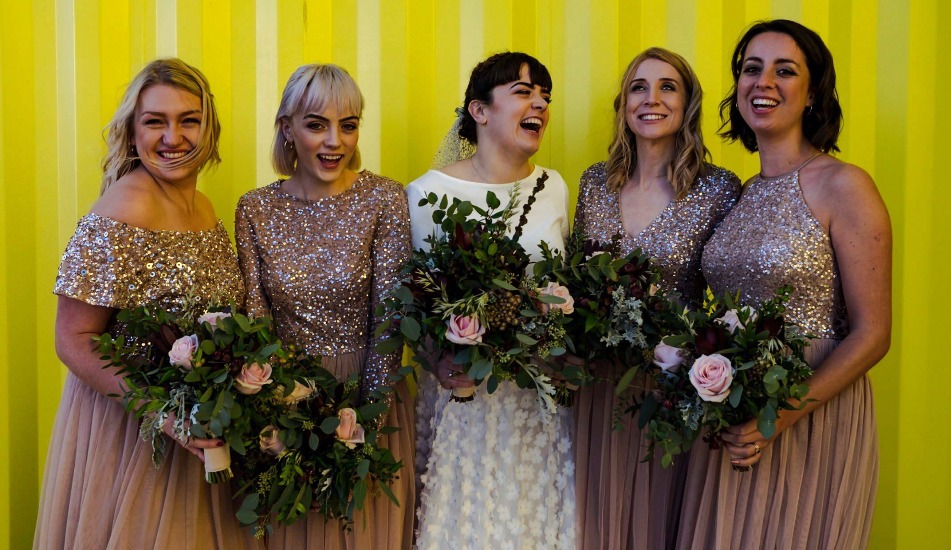 RUSTIC GREENERY AT TRINITY BUOY WHARF
Foliage, herbs, seasonal berries, in as many varieties as we could find.
These were the basis of this beautiful winter wedding in London's atmospheric Trinity Buoy Wharf.
Candlelit trestle tables were adorned with foliage runners, and leaves were scattered about the ceremony space like rustic confetti. Occasional blush and burgundy floral accents popped up across the day but it was the seasonal greenery that really stole the show.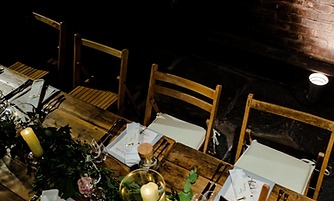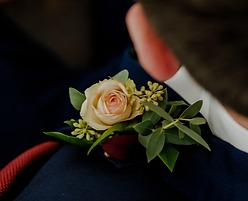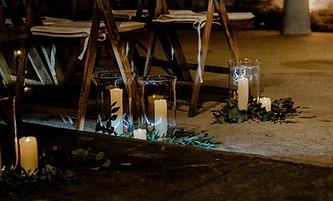 Photos © Jonathan Flint Photography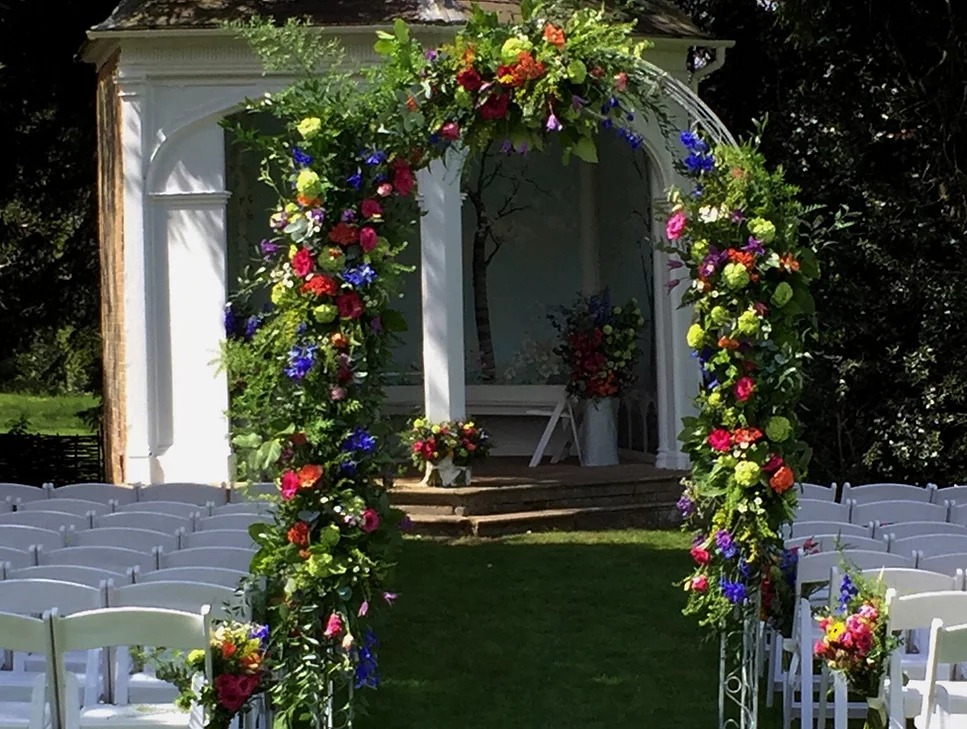 WILD FLOWER AT WASING PARK
For her wedding in the heart of the Berkshire countryside, our bride wanted her flowers to remain in keeping with the setting - abundant greenery, naturally arranged and nothing too formal or contrived.
A loose floral arch marked the entrance to the aisle of the outdoor ceremony and gathered posies of mismatched spring flower sat alongside potted plants on the guest tables. Slightly wilder candelabra arrangements provided height and, to ensure the room retained a relaxed and inviting air, all the flowers were weaved through items of personal significance to the bride and groom.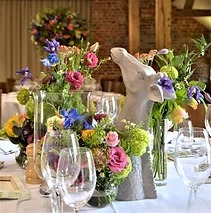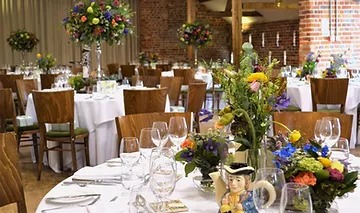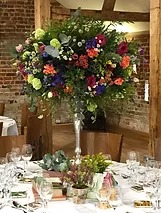 feeling inspired?
If you would like to find out a little more about how we can bring your dream wedding flowers to life, our Wedding Services Guide provides additional information about us; our values, our work and our prices.
The Floral Experience will take you through the process of choosing your flowers, from initial ideas through to what to expect on the day. And if you are ready to have a chat, do book a date for a complementary consultation.
We'd love to meet you.